The Taj Mahal is known globally as a tourist destination for India. The recent Google search trends for 2012, proves otherwise.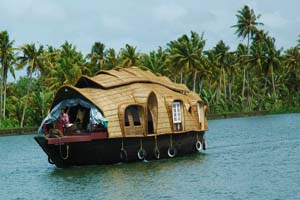 It has come as a pleasant surprise that God's own country- Kerala has edged out the Taj Mahal from its numero uno position. Emerging as the number one travel destination, the effort of the Kerala tourism has paid off.
Among the top 10, the Taj Mahal is at placed at number two, followed by Wagah Border, Vaishno Devi and Amarnath. Kashmir is placed at number six, with Shirdi,Rameshwaram Temple at eighth position ,Munnar  and Gateway Of India respectively.
Coincidentally, Munnar ranks at number nine, on the list of Top 10 Indian travel destinations on Google's Zeitgeist site, displaying search trends from around the world, at a glance.
Minister for Tourism, Shri A P Anil Kumar described the two listings "Kerala Tourism is a leader in online promotional activities of the state. We are one of the first government establishments to make use of the internet to reach out to the world."
Applying innovative ideas, the internet has played a major role in highlighting Kerala as a favored tourist spot.Active campaigns on social media networks like Facebook and Twitter have propelled Kerala to the number one stop in India.
The official website (keralatourism.org) has appealed to the user with easy navigation and quick access to information. Attracting over 250,000 unique visitors every month, Youtube has registered 6 million views this year.
IndianEagle offers cheapest prices to God's Own country.Visit www.indianeagle.com for cheap flight deals to Kerala.