Safari- the thrill of seeing animals in their natural habitat, brings out the wild streak in anyone seeking adventure. To capture on camera, the otherwise harmful animals, gives an adrenaline rush, to those who like to take a walk on the wild side.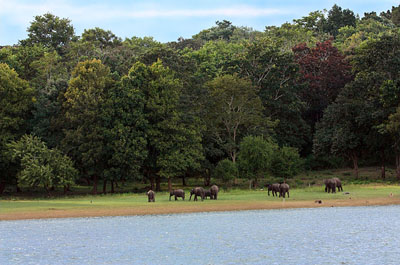 Kabini along the Karnataka and Kerala border is a perfect getaway for any weekend. Part of the Western Ghats and Nilgiri Hills, the foliage is just perfect to escape into nature's fold.
The River Kabini, also known as Kabani and Kapila originates from the Wayanad District of Kerala, from the confluence of the Panamaram and Mananthavady River. It joins the Tirumakudalu Narasipura in Karnataka and empties into the Bay of Bengal.
Kabini is known for both Land as well as Water Safari.
Summers are favorable for Wildlife as water level recedes to form rich grassy meadows. Land safari can be so delightfully exciting to spot bisons, peacocks leopards, deer, wild dogs and many reptiles.
Ornithologists, can have a field day with their cameras. Winged-wonders resting alongside the river bed can be viewed with a ride in the Indian coracles.These boats are made locally from the hide of a Buffalo. Asiatic Elephants can be spotted in herds bathing, feeding and wrestling, lazily cooling off from the scorching sun. Leopards, deer, wild dogs and many reptiles are seen in their natural habitat.
Jeep rides are offered with tourist guides giving tips to tourists in search of rare wildlife species. Wild herbivores in South Asia can be seen from close quarters.The Safari at the Nagarhole National Park, declared a national park in 1974 is a wildlife Photographers delight.Interaction with tribal residents of the forests, can be insightful with  fascinating tales of folklore. Their handicrafts are also worth a buy.
The Kabini Reserve is spread across 55 acres covering forestland, steep valleys and water bodies. Kanbini was favored as the private getaway for the British Viceroy to pursue "Shikhar" or hunting.The hunting lodge of the Maharaja of Mysore is preserved till date.
A hotspot for hunting wildlife sanctuary, Indian Eagle recommends you take a trip to the Wild side of Kabini. Make an appointment where Nature pulls out goodies from the magic bag.Book Lowest Fares to Karnataka at www.indianeagle.com