TIGER, tiger, burning bright
In the forests of the night,
What immortal hand or eye
Could frame thy fearful symmetry?
–  William Blake
These memorable lines from the poem "The Tiger" is a vivid portrayal of India's National Animal. Aesthetic Bea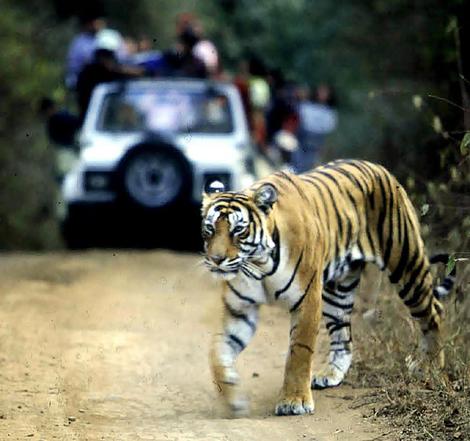 uty with primal Ferocity-The Tiger is a National Treasure. Sadly on the road to Extinction, conserving the Tiger has become the top need of the hour.
Astonishingly, the Jim Corbett National Park in Nainital, Uttarakhand has been playing a key role in protecting the endangered Bengal Tiger, since 1936. The park nestles amidst the Patli Dun valley formed by the Ramganga river. Its Humid and highland climate sets the tone for natural vegetation.
This oldest national park in India, is named after hunter and conservationist Jim Corbett.The natural habitat boasts of an impressive population of 160 tigers. Popular among animal Lovers, this park has the rare distinction, as the most important bastion of this endangered Cat.
The Corbett National Park is situated at the foothills of the Himalayas. A sanctuary with forest reserves, the foliage resonates with beauty and splendor. The naturally Flat valleys interspersed with hilly ridges, the Park's rolling grasslands are perfect scaffolding to the rich eco system.
The expanse of the Corbett with lush forests and thick jungles, house numerous other species of fauna. Bird Watchers have sighted 600 delightful species so far, amidst 488 different species of plants.
The flora is an ensemble of a variety of trees,shrubs,herbs,bamboos,grasses, climbers and ferns. The natural mountains,Sal forests, chaurs (grasslands), khair-sissoo forests and rivers supplement the procreation of this natural habitat. Sal, Sissoo and Khair contribute to the diversity of this Explorer's delight dotted with Chir Pine and Giant Oaks on ridge-tops.
You may be a Backpacker, Adventure seeker, Explorer or Animal Lover. Uttarkand has to be on your travel journal.In 1974,this sanctuary became the first Park to come under 'Project Tiger' a wildlife conservation initiative by the government of India.
Mark your Calender to Explore The Jim Corbett National Park.Book with IndianEagle.com for a tryst with the magnificent Tiger in its natural surroundings.