Cool Gadgets, Graphics generated with State of the Art technology, Beautiful women, Astounding soundtracks, Menacing villains, Nail-biting chases, Death-defying stunts and Gorgeous Locales! All the trapping that go into making a Bond film. No compromise on budget and quality,Bond Films have always been cited for splurging, on the distinct ensemble, that sets a Bond Film apart from the rest.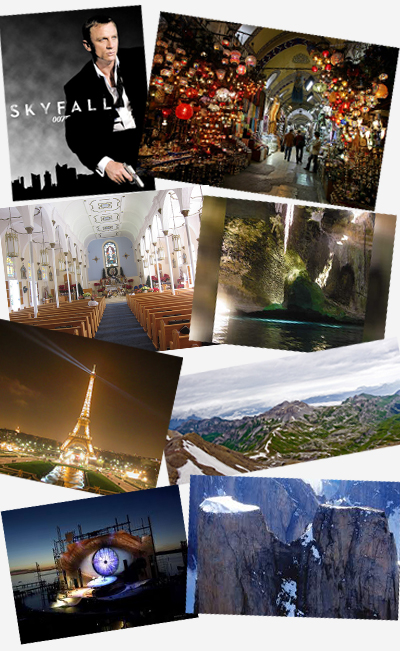 James Bond films have transpired into trendsetters for introducing the Spy against breathtaking locations with each new film. Background location for shooting are zeroed in with meticulous planning.Indian Eagle lists some landmark destinations that have added value, to enhance the true James Bond-style.
Turkey
'Skyfall' has incorporated many locations from Turkey, known for its earthy appeal and vibrancy. Istanbul's Grand Bazaar has Bond in adrenaline gushing high-speed chase through the narrow aisles. The Varda Railway Bridge in southern Turkey and Fethiye on the Mediterranean coast, made it possible to capture four different looks in Turkey alone.
Key West, Florida
St. Mary's Star of the Sea Church in Key West has Bond perform insane aerial maneuvers in "License to Kill". Car chase along the Seven Mile Bridge, Key West and Ernest Hemingway Home have become landmark locations to visit for Bond fanatics.
The Bahamas
Underwater caves of the Exuma Cays! Who can forget the memorable Sean Connery featured 1965 "Thunderball". The Caves are known as the "Thunderball Grotto". The location was revisited to film "Never Say Never Again" with Connery in 1983, snorkeling in the sunlight bathed stream with colorful fish playfully leaping to the water surface.The pristine location has left a lasting impression with the audience.
Paris
Parachute fall by Grace Jones with Roger Moore chasing her up the steps of the Eiffel tower." A View to a Kill" has the Bond Film can the memorable shot with a breathtaking view of Paris, against the backdrop of the Eiffel Tower.
Schilthorn, Switzerland
Picturesque location,can Switzerland be left behind! 2,970-meter-high Schilthorn in Switzerland's Bernese Alps with Bond sking down at breakneck speed! "On Her Majesty's Secret Service" 1969, breathtaking mountaintop scenes filmed to add to that rush for the wild goose chase.
Bregenz, Austria
Seebühne floating stage on Lake Constance has placed Austria on the Map. The Floating Structure set in the middle of the waters had Daniel Craig chase the baddies in "Quantum of Solace" 2008.The startling open-eye backdrop of the "Tosca" set had Bond followers make a trip to the idyllic locales of Austria.
Auyuittuq National Park, Canada
Nobody Does it Better than James Bond himself in "The Spy Who Loved Me" 1977.Roger Moore BASE jumps from the distinctive twin flat-topped peaks at 6,598 feet. TheMount Asgard in Auyuittuq National Park on Baffin Island, Canada had the viewer almost breathless.
Indian Eagle has the right price to fit into the budget of the James Bond fan, willing to visit these places for a feel of the original. Check our Lowest Airfare for cheap flight tickets at www.indianeagle.com