Boston Indians are about to have a gala time over the below Indian events in Boston in July 2017. The calendar of July 2017 Boston Indian events includes a couple of spiritual events, a live concert and performing arts events. Varshini Mohankumar's debut performance and the 3-day Bharatanatyam festival are the top Boston Indian community events in July to watch out for. We at Indian Eagle curated some of the best events for Boston Indians in July 2017. Here are the details:
Varshini Mohankumar's Arangetram
Varshini Mohankumar's Arangetram is one of the top Indian events in Boston in July 2017.  A disciple of eminent Bharatanatyam exponent Smt. Jayshree Bala Rajamani, Varshini has been learning the classical Indian dance for over a decade now. Varshini performed Bharatanatyam at various temples in USA including Sri Lakshmi Temple in Boston. It is listed among the cultural Boston Indian events in July 2017 as it marks her debut Bharatanatyam performance on stage. Varshini Mohankumar's Arangetram will be held on July 15 at Littleton High School in Littleton.
Awaza Sufi live In Concert
Indians in Boston, MA are in for a musical treat on July 2. Among the much-awaited Indian events in Boston in July 2017, Awaza Sufi live concert will certainly entertain the music enthusiasts. One of the top events for Boston Indian community in July 2017, it will bring renowned Indian singers Dr. Mamata and Ritu Sagar to rock the Desi with Sufi and Bollywood songs. It will be held at the Regent Theater in Arlington.
Brundavan Gnana Kalpavruksha Stothra Classes
One of the upcoming Boston Indian events in July 2017, Gnana Kalpavrukhsa Stothra classes educates young Indians in Boston about the significance of Indian epics. The kids will be taught to develop focus, strength and faith in devoutness through stotras (hymns) and stories from Ramayana, Mahabharata, Srimad Bhagavatam and the life of Indian mystic Sri Raghavendra Swami. The month-long event will be among the best July 2017 events for Indians in Boston, MA as it will help the kids broaden their spiritual perspectives. It will commence on July 3 at 17 Kestrel Ln in Westford.
Awakening: Inner Happiness and Freedom
Among the best Boston Indian community events in July 2017, Awakening Inner Happiness and Freedom by Brahma Kumaris will help the residents of Boston unravel the secrets to lead a happy life. Eminent Raja Yoga instructor Sister Shivani will give participants useful tips on how to find inner happiness through meditation. Ambrosia Weddings and Events in Foxborough is the venue for this event on July 4.
Nrityanjali40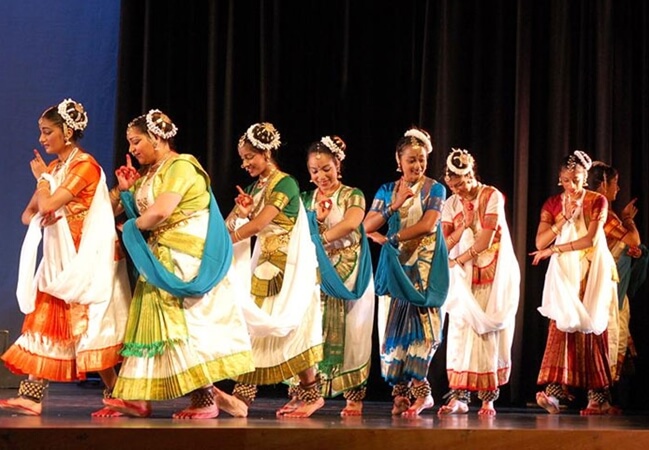 The curtain for Boston Indian events in July 2017 will fall down with Nrityanjali40 from July 28. The three-day Bharatanatyam festival will be celebrated to commemorate 40 years of the popular dance academy Nrityanjali. Among the not to be missed Indian events in Boston in July 2017, the festival will feature spectacular theater dance performance on various scenes from the Indian epics by famed classical danseuse Jothi Raghavan and acclaimed guest artistes. The students of Nrityanjali Dance Company will also showcase their dancing skills and entertain the audience. Little High School Performing Arts Theater will play host to the event.