Three Indian Americans are named for the 2017 Padma Shri awards. They are among the 75 Padma Shri awardees of 2017. Padma Shri is India's fourth highest civilian honor. These three Indian Americans are sitar maestro Imrat Khan, TV Asia's Chairman HR Shah, and Anant Agarwal, MIT professor and edX CEO.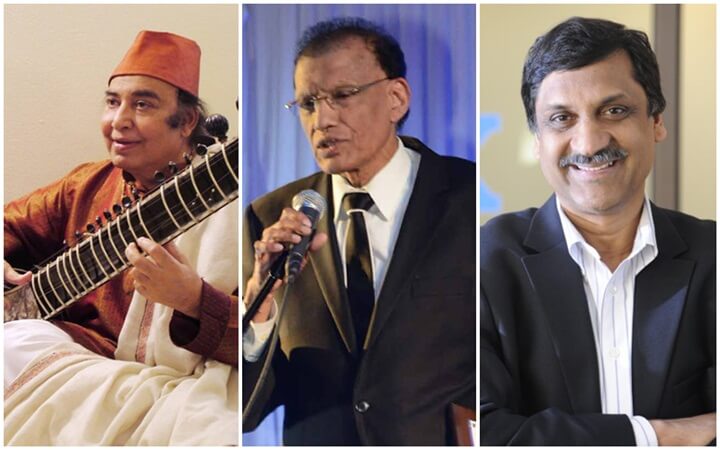 Ustad Imrat Khan is the younger brother of late sitar exponent Vilayat Khan. A resident of St Louis in Missouri, Imrat Khan is revered as the world's best player of surbahar, a sitar-like instrument with deep-toned strings which his great grandfather, Ustad Sahabdad Khan, had developed. The Padma Shri awardee, Imrat Khan along with his brother pioneered 'gayaki ang', the purest vocal form of Indian instrumental music. Mastering the art of playing in gayaki ang is the dream of all instrumentalists. The 81-year-old sitar maestro is a visiting professor at Washington University in St Louis.
Among the Indian American Padma Shri awardees of 2017, Anant Agarwal is the master brain behind the development of edX, a portal for free online education by Harvard and Massachusetts Institute of Technology. An IIT Madras graduate and an MIT professor, Anant Agarwal is recognized for effectively addressing the need to help working professionals with career development programs for free. A resident of Weston, he was on Forbes' list of top 15 education innovators in 2012. Indian American Anant Agarwal treasures a Guinness World Record for the largest microphone array.
Indian American HR Shah is named among the 75 Padma Shri awardees of 2017, in recognition of his contribution to the field of journalism. He relocated to USA in 1971 to rise above his humble background in Gujarat. The first Indian American to have been running a 24-hour TV channel (TV Asia) in the US since 1997, HR Shah is a reputed entrepreneur and philanthropist. He was recognized as an outstanding immigrant and awarded the Ellis Island Medal of Honor in 2005. He is the Chairman of Bharatiya Vidya Bhavan in USA too.
All the 75 Padma Shri awardees of 2017 will be ceremoniously felicitated by the President of India in March or April.
Travel Beats is a leading Indian American portal by Indian Eagle, a trusted partner of Indians in USA for booking their travel to India. Subscribe to Travel Beats' free newsletter for the latest immigration, visa, air travel and community news.