Pristine surroundings with misty cool breeze hitting one's face, the serenity has a calming effect on one's mood, has to be Horsley Hill.Tucked away in Chittoor District in Andhra Pradesh, Horsley Hills are the major tourist spot near Madanapalle. The hillock infested with dense forests and favorable weather, spread a blanket of tranquility all around.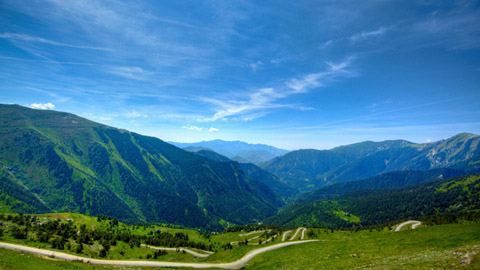 The top of the hill at a dizzy 4,312 feet above sea-level, offers a panoramic view, that can take your breath away. The broken range of Hills a part of the Eastern Ghats, lie along the Andhra Pradesh and Karnataka border.
The hillocks named after WH Horsley, a British civil servant, who built a summer bungalow in 1862, exits till date as the 'Forest Bungalow'.
Monikered as "Andhra Ooty" the hill station is very close to the famed School Rishi Valley School. The boarding school was founded by the philosopher Jiddu Krishnamurti.
The jagged hills are known as Archeans, any geologists delight. Temperatures dip at a chilly 5 degrees celcius.The maximum is 32 degrees celcius, turning Horsley Hills into a lucrative hill station during summers.
The foliage has left the vegetation enriched with rich flora. A bird watchers delight and a treasure trove for any nature lover, red sanders and sandalwood are exported for commercial purpose.Horsley Hills are abundant in eucalyptus, silver oak, mahogany, coffee, jacaranda, allamanda, gulmohar and other medicinal plants.
The ravines provide shelter for the fauna. Panthers, sambars,wildboars, bears, four-horned antelopes, jungle-fowls and porcupine are found roaming in their natural habitat.Migratory birds like red-throated flycatcher, Montagu's harrier, blue-headed rock-thrush, ultramarine lycatcher etc nest at the waterfront.
Indian Eagle tempts you to take a walk amidst nature for a soul stirring experience. Tall eucalyptus trees with rare and exotic birds painting a picture of serenity, check our prices while your mind conjures up that image. Book at Lowest Airfare guaranteed at  www.indianeagle.com