Jhansi Fort, one of the living witnesses to the Sepoy Mutiny (1857) that is the first War of Independence in India, has recently completed the 400th year of its establishment. Built on a hilltop in 1613, the fort has been the stronghold of Jhansi in Uttar Pradesh. The foundation of the fort is a historic mark of Jhansi's rise to prominence in the regime of King Bir Singh Deo of Orchha. He was in good terms with Jahangir, the then emperor of the Mughal dynasty.
Jhansi Fort is a colossal structure with 10 mighty gates. The Lord Shiva temple, the Lord Ganesh temple and the Kadak Bijli Canon are some of the prominent sights in the interior of the fort. The canon was used to fight the British army in the Uprising of 1857. Some of the historic sites in the fort tell the story of courage and bravery that Rani Laxmi Bai held an example of during the Sepoy Mutiny. The Rani Mahal, added to the fort in the second half of the 18th century, has been converted into an archaeological museum.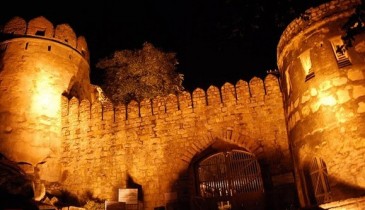 The British army led by General Hugh Rose had sieged the fort during the Sepoy Mutiny. However, the fort retains immense architectural and sculptural value. An interface between the Bundela and Maratha architecture styles, Jhansi Fort boasts a number of historical sculptures. Jhansi Fort serves as a glittering venue of Jhansi Mahotsav, a grand annual festival in the calendar of the city and held in the month of January or February. Many eminent artists of the state participate in the event.
The 400th anniversary of Jhansi Fort has been celebrated through cultural functions including folk songs and dance performances in the fort itself. The renowned personalities from various walks of life and the cultural minister offered tribute to Rani Laxmi Bai and others who had embraced martyrdom in the Uprising of 1857. The opening of a museum in honor of Jhalkari Bai, a close accomplice of Rani Laxmi Bai, has been announced on the day of the anniversary celebration.
Jhansi is a small city with several tourist attractions of historic importance in the state of Uttar Pradesh. Other important tourist spots nearby Jhansi are Khajuraho, Gwalior and Agra. Jhansi is at a short drive from Lucknow Airport and easily accessible from Delhi, too.
Get the cheapest flight to India on IndianEagle.com and make a trip to Jhansi, Agra, Khajuraho and Gwalior.