Music, Dancing, Feasting along beautiful beaches in India. Has to be Goa.The idyllic paradise on earth will play host to the Goa Carnival between 09 Feb to 12 Feb. The tourist spot has been attracting tourists globally for its pomp and lavish grandeur.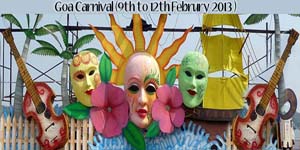 The festival was celebrated by the Portuguese, who ruled over Goa for 500 years. The carnival took off during the reign of the legendary king Momo. Men and women dressed in fancy clothes and colorful masks, danced to music the Romans enjoyed. The legacy has continued till date.
The musical parades and floats have people queuing up to capture the revelry and spirit of the festival. Floats of the Mythological figure King Momo feature prominently in all floats across five main cities. From a local festival, the flavor has spread across borders, attracting travelers with gusto to celebrate.
Carnival is derived from the Latin word 'carne vale' which means 'abstinence from meat'. It is celebrated for four days, beginning with the Saturday preceding Lent, the 40 day abstinence period before Easter.
The culture and ethos of the event has shades of ancient Greece and Rome carnivals. They became popular in Spain and Portugal and when Goa was conquered by Portuguese, the carnival was introduced to the state.The carnival has short plays staged based on the tradition and culture of Goa. Goa wears a new look with Portuguese and Goanese songs playing amidst the tall swaying palms. Singers play songs accompanied by the guitar.
Catch a glimpse of Goan culture and traditions with Indian Eagle. The riot of colors will make your participation, worthwhile. Book tickets with Indian Eagle at the Lowest Airfare to Goa, soak  into the visual delight of White sands and sparkling waters.