Overcoming obstacles and impairment, Girisha Hosanagara Nagarajegowda leapt to glory by clinching silver in the men's high jump finals at the 2012 Paralympic Games in London. The awe-inspiring story of Nagarajegowda's reads like a manual that doesn't come with instructions.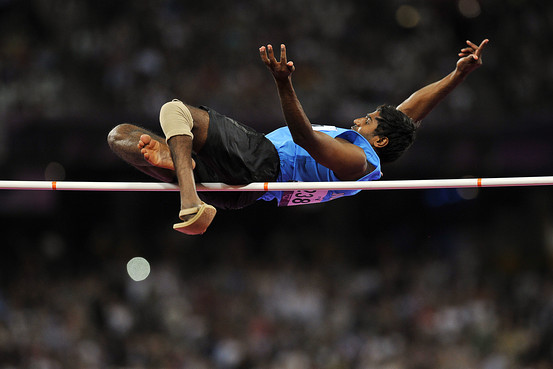 Cruising over the 1.74-meter mark with his second attempt, Nagarajegowda becoming the sixth ever Indian to claim a Paralympic medal.The F24 class, has athletes with impairment affected in their arms and legs, competing to clear the best height of 1.74m.
Winning is not new to Girisha Nagarajegowda. In January 2012, he bagged a medal in an international meet in Kuwait and another in the Malaysian Para meet in April, 2012.
"It is a dream come true. I was in New Delhi to meet the President when Sushil Kumar won the silver medal and his performance motivated me. In fact, I felt motivated whenever I saw an athlete winning a medal at the Olympics," Girisha said, as he got ready for the medal ceremony.
Son of a daily wage labourer, he quit his secure bank job to concentrate on training. The six months training sans a job has finally paid off. Nagarajegowda has placed Karnataka on the map with this rare feat and  helped India jump to 53rd place in the medal's tally.