Prime Minister Narendra Modi's historic speech at the United Nations General Assembly in New York ended with a song written by Rabindranath Tagore. The beginning of the song translates to "Proceed fearlessly on your auspicious path of action; all weaknesses and hurdles shall vanish". This song also finds resonance in the most recent achievement of Gandham Bhuvan Jai, an 8-year-old boy from Andhra Pradesh. On September 18, he scaled Mount Elbrus, Europe's highest peak at an elevation of 5642 meters. He became the world's youngest mountaineer to achieve this feat amid harsh weather conditions.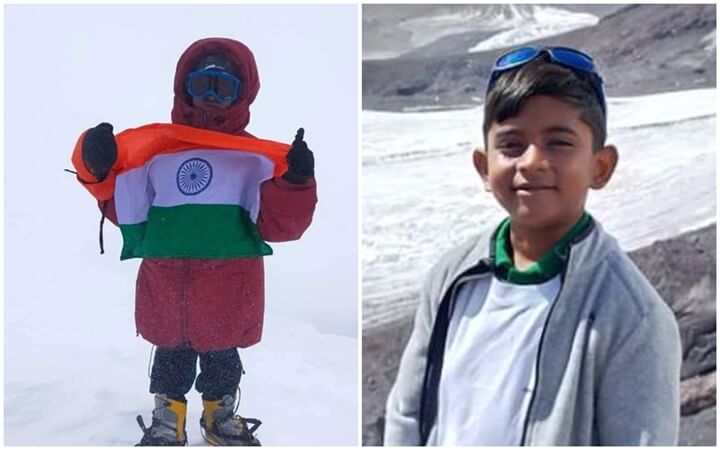 Gandham Bhuvan Jai's achievement brought laurels to the country. He unfurled the Tricolor and held a banner featuring Dr. Ambedkar and the Indian Constitution's Preamble at the top of Mount Elbrus, one of the seven summits in the world. Undeniably, climbing Mt Elbrus, a dormant volcano, is an arduous challenge in the face of unpredictable weather. He was trained by Shankaraiah, a mountaineer himself. On return to India yesterday, he was received by his father at Hyderabad International Airport.
A native of Kurnool in Anantapur district, Gandham Bhuvan Jai has been a hyperactive child. He brims with boundless energy and enthusiasm. Once Shankaraiah, the sports coach of Rural Development Trust, noticed Bhuvan and told his father to leverage Bhuvan's energy for extracurricular activities. Thus, Bhuvan was initiated into mountain climbing by Shankaraiah, a professional mountaineer. His formal training for climbing Mt Elbrus began at Gandikota, the Grand Canyon of India, in February 2021 when the country was bracing for the deadly second wave of COVID-19.
On completion of his training in Gandikota, Gandham Bhuvan Jai trained in Ladakh in the Himalayas where he learned to adapt his body to volatile weather and atmospheric extremes. One of the challenges of scaling mountains is to brave unpredictable weather at high altitudes, other than understanding the know-how of mountain climbing. His body and mind developed harmony with harsh weather over a few weeks in Ladakh.
While the Himalayan belt of India is home to the country's best athletes, the nation's mountaineering talent has become the preserve of Andhra Pradesh – one of the two Telugu-speaking states.
Early this year, 9-year-old Kadapala Rithvika Sri from Andhra Pradesh conquered Africa's highest peak, Mt Kilimanjaro. She became the youngest Asian girl and the world's second youngest girl to have achieved this feat. She was accompanied by her father, who is also her guide and a cricket coach for Special Olympics. The undivided state of Andhra Pradesh was catapulted to global fame in 2014 when 13-year-old Poorna, daughter of a farmer, scaled the world's highest peak, Mouth Everest. Poorna was accompanied by Anand, a cycle mechanic's son from Khammam district (now in Telangana).