Success they say never comes easy and for Indian Shooter Gagan Narang, it has proven third time lucky. Basking in the adulation of launching India's quest for winning laurels at the Olympics, Gagan Narang has since become unstoppable, trending on the Inter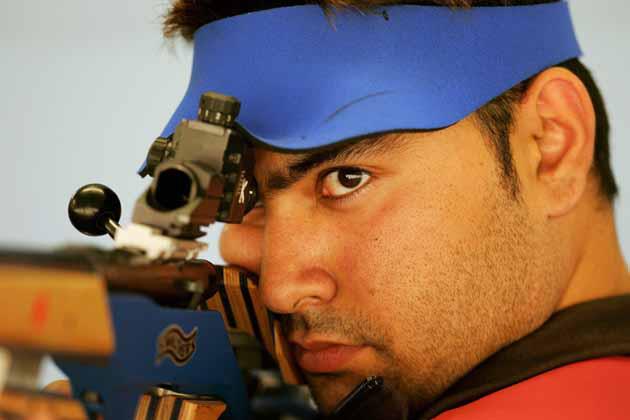 net.
The 29 year old Air rifle shooter ended the drought by bagging the bronze medal at the London Olympics, 2012. The impeccable 103.1 shot in a gripping 10-shot finals for an aggregate of 701.1,marked the first medal for India.
Having experienced his fair share of disappointments earlier, Narang missed out on the finals for both the Athens and Beijing Olympics, due to technicality.
Personifying humility Narang said: "Pressure was immense. I shot two nines today. I could have done better. But I am happy with my medal. It means a lot to a lot of people who have worked for this."
Narang had earlier won four gold medals in the 2010 Commonwealth Games, New Delhi. He followed it with two silver medals at the Guangzhou Asian Games.
With two more events left at the Olympic Games, the expectations have gone up from the Rajiv Gandhi Khel Ratna award winner. This Hyderabadi is the only shooter to have shot a possible 600 twice.  The Indian Morale faced a setback with 2008, Gold medalist Abinav Bindra failing  to qualify for the finals at the Royal Artillery Barracks. This victory has come as a ray of hope at an opportune time,  keeping India's hope alive for a better tally of medals  at the Prestigious Games.
Despite winning the medal, Narang isn't content with his score. "I am not really happy. My coach is also not happy with the score. Scoring 600 is always challenging, but I made a few technical mistakes at certain points. But then an Olympic medal is an Olympic medal," he said.
Asked whether the celebrations back home would serve as a distraction for him in the two other events, he said "I don't know what is happening back home. I am trying to stay focused for my two other events.