The man who was told that he was only good enough to be a rickshaw puller is going to be a tech billionaire on Wall Street in the near future. His journey from a small town in India to NASDAQ is an inspiring story of a common man with big dreams. He is none other than Rathnagirish Mathrubootham, the co-founder and CEO of Freshworks with headquarters in California. Freshworks, which recently made international headlines for its blockbuster IPO on Wall Street, is worth $13 billion. It is the first Indian startup to have listed on a US stock market.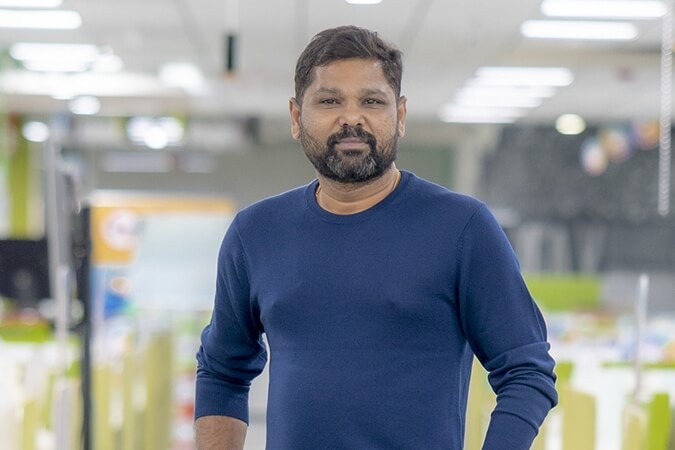 The son of a retired banker from the small town of Trichy in Tamil Nadu, Girish Mathrubootham rose over a typical middle-class background where success is measured by scores in school exams and a well-paying corporate job. His not-so-good score in the grade 12 and the entrance exam for engineering earned him scornful glances from family, relatives and neighbors. Today, Freshworks CEO Girish Mathrubootham's net worth is $700 million, which is hundreds of thousand times more than his academic scores. His philosophy is, "Don't react to criticism. Don't respond to the cynics. Rather use it to fire to do something creative."
When the US job market crashed over the dotcom bubble burst in 2001, he moved back to India. The September 11 attacks hurled a further blow to the US economy which was on its knees due to the NASDAQ crash at the turn of the millennium. It resulted in the loss of around 2 lakh jobs in Silicon Valley between 2001 and 2004. Girish whose salary was $85,000 per annum in 2001 took up a job for the monthly salary of Rs 40,000 in 2005-06. In his father's eyes, Girish, with a 2BHK home loan, was not as successful as his friends who were well-settled then. He believes,
"People's definition of success is different. I was looking at being happy. So I was going after what made me happy, not chasing money. I was enjoying my career, building products and having fun, my friends knew that but I think that was okay."
He gradually climbed the corporate ladder in India and became Vice President – Product Management at Zoho Corporation, the billionaire founder of which lives in a quaint Indian village. When he was doing fairly well in his 9 to 5 cushy job amid the receding effects of the Great Recession in 2010, an incident awakened the sleeping entrepreneur in him.
A broken TV led Girish Mathrubootham to build Freshworks (earlier Freshdesk) and take it global with offices in the US, the UK, Germany and Australia other than India in only 10 years. It all started in 2009 when he was returning to Chennai after two years in Austin, Texas. Among all his stuff that was shipped to India form the US, a Samsung 40-in LCD TV arrived broken. He called the shipping company and claimed compensation out of the insurance he had purchased. After a myriad number of phone calls and emails for 6 years, his insurance claim was rejected.
He expressed his grievance on RTI Forum (Return to India) which is popular with Indians flying back home from the US. On seeing the forum members' response to the post, the president of the shipping company apologized to him and reimbursed his insurance claim. It was an eye opener for him to cash in on the opportunity of building a multi-channel helpdesk especially when the potential of Facebook and Twitter was slowly building up for online reputation management. That's how he hit upon an entrepreneurial idea and Freshdesk was born in the early days of India's startup ecosystem. Freshdesk (now Freshworks) revolutionized customers' interaction with companies across social media channels.
On being asked by a reporter whether he would lure the best talents into joining Freshworks by offering them BMW bikes or business class flights to exotic destinations, Girish said, "No. We will equip them so that they can buy them on their own." The NASDAQ listing of Freshworks proved him right as more than 500 of his employees became millionaires after the Wall Street debut of Freshworks. He is now bullish about making his brainchild the Infosys of IT services. In an interview with Forbes India early this year, he said, "My mission is to try and marry the art of Indian entrepreneurship and the science of Silicon Valley."
Marketing and engineering graduates from the world's premiere institutes joined the core team of Freshworks, while CEO Girish Mathrubootham has no fancy degree from Stanford or Harvard. He holds an MBA degree in marketing from the University of Madras. He showed Silicon Valley that determined Indians like him from small towns, with big dreams but no foreign education, can embark on an entrepreneurial journey from a 700-feet warehouse and cater to a global client base of over 50,000. It is best described in his own words, "I felt like an Indian athlete who had won the chance to compete in the Olympics."