Indian cinema has successfully carved a niche for itself in the world of entertainment, on a  global scale. Commemorating 100 years of Indian cinema, the venue is a fitting tribute to Delhi which has also completed 100 years. The first Delhi International Film Festival will be held from Dec 21-27, 2012 at Siri Fort Auditorium and NDMC Convention Center, New Delhi.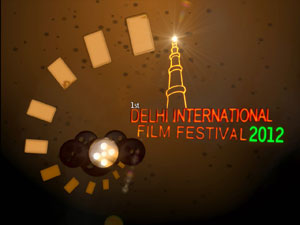 150 films from 70 countries like France, Israel, Britain and Brazil will showcase their creativity  under the NRI Cinema section.Noted filmmaker-writer Suresh K Goswami, festival director, said "In my point of view, the DIFF is not just a festival of films. It is the vision of bringing the world together at a universal platform".
Bridging the gap, the centenary celebrations will be a platform to exhibit  15 films by NRIs such as  'A Gran Plan' by Sangeeta Nambiyar of Singapore, 'Oas' by Shiv Tiwari of New York, 'The Happy Pulse' by Jay Bajaj of Canada and 'Children of God' by Foukia Akhtar from UAE.
Films will be Screened  under 10 sections including Tributes, Homage and Retrospective films on Dev Anand and Balraj Sahni and other legendary filmmakers and actors.
The World Cinema section has an impressive list such as Daughters of Hill by Patrizia Landi, The Artist by Michel Hazanavicius, Love Bird by Susan Collins and The Sunshine in The Corner by Sun Hao Young. A collection of Poems compiled by various NRI writers from all over the World will also be launched at the event. Art exhibition, workshops and seminars will be conducted to analyze upcoming trends within the film fraternity.
The Minar-e-Dilli award will be given to film makers, artists and writers for outstanding contribution to society through the medium of cinema. The best films will be honoured with the Golden Minar and Silver Minar awards.
Event Organizers Social Circle, has partnered with Broadway International Film Festival, Los Angeles, South Cinema South Film Festival, and JMT from Israel, Slade School of Fine Arts London, Film Factory China, the Turkish film industry, Cinetech Nationale Mexico, Brazil Films, Media Box Bangladesh, Hunarkada from Pakistan, Film Boutique from Germany, Nantes Film Festival of France and the French Cultural Centre.