The 150 winners of the Coca-Cola Scholarship 2016 from across the United States include 29 Indian American high school seniors. The Coca-Cola scholars were felicitated with the scholarship at the Coca-Cola Scholar Foundation's 28th annual banquet.
The contestants who attended the Coca-Cola Scholars 2016 Weekend from March 31 to April 3 participated in the intensive leadership development training that challenged their academic excellence, leadership traits and dedicated to service.
Since 1989, the Coca-Cola Scholars Foundation has awarded scholarship to over 5,550 high school students with promising career goals, leadership qualities and high potential to change the world. The scholarship program is financial assistance to outstanding high school seniors from across the nation, who will prove to be change-making, service-oriented leaders in future.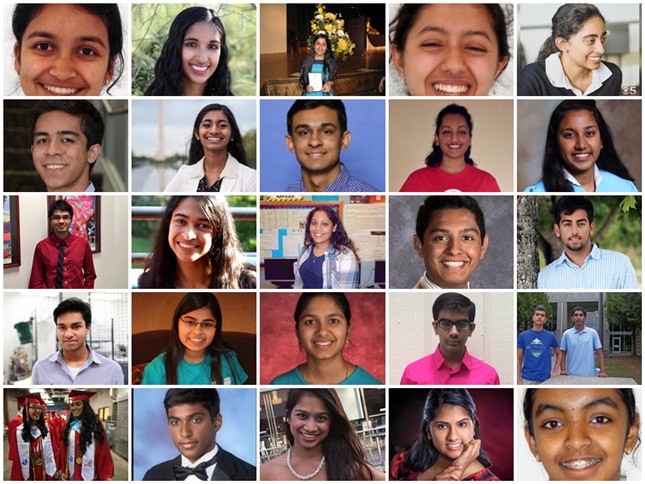 The following are Indian American Coca-Cola scholars among the 150 winners of the Coca-Cola Scholarship 2016: 
Rohini Nott from Basic Chandler High School, Chandler, Arizona
Snigdha Banda from Notre Dame High School, San Jose, California
Durga Ganesh of Lynbrook High School, San Jose, California
Anjini Karthik from St. Francis High School, Mountain View, California
Varun Mandi from Troy High School, Fullerton, California
Swetha Revanur from Valley Green High School, San Jose, California
Maya Varma from Presentation High School, San Jose, California
Shrey Agarwal from Strawberry Crest High School, Dover, Florida
Kriyana Reddy from Intl. Baccalaureate Bartow High School, Florida
Raahina Malik from Fayette County High School, Fayetteville, Georgia
Tushar Dwivedi from Neuqua Valley High School, Naperville, Illinois
Sneha Dave of Center Grove High School, Greenwood, Indiana
Vikas Maturi from Carmel High School, Carmel, Indiana
Sruthi Palaniappan from Linn-Mar High School, Marion, Iowa
Pranav Ganapathy from Centennial High School, Ellicott City, Maryland
Neehar Banerjee from Mayo High School, Rochester, Minnesota
Supreet Singh, Hillcrest High School, Jamaica, New York
Tejal Patwardhan from Sch Sci & Math High School, Durham, North Carolina
Shivraj Sandhu from Fike High School, Wilson, North Carolina
Kavya Ravichandran from Hathaway Brown High School, Shaker Heights, Ohio
Raghavendra Pai from Edmonton Memorial High School, Edmonton, Oklahoma
Bhavin Gupta from Westview High School, Portland, Oregon
Siona Sharma from Seneca Valley, Harmony, Pennsylvania
Krishna Gorrepati from Spring Valley High School, Columbia, South Carolina
Saheel Chodavadia from Mcneil High School, Austin, Texas
Sarita Damaraju from W B Ray High School, Corpus Christi, Texas
Nikit Venishetty from Plano East Senior High School, Plano, Texas
Reshini Premaratne from Maggie L Walker Governor School, Richmond, Virginia
Ananya Murali from Shorewood High School, Shorewood, Wisconsin
Travel Beats is a digital news portal for Indians and NRIs by IndianEagle, a leading international organization booking travel between the US and India. It publishes the latest news and stories from India and USA.