After causing week-long rains, snowfall, and ice accumulations from the Southern Plains to the Southeast, Winter Storm Diego has subsided only to give rise to a new storm system late this week. Yet to be named, the approaching storm is mainly a rainy system which is predicted to affect pre-Christmas travel to, from and through the Southeast US with a clampdown of widespread rain and thunderstorms late this week.
With the record-breaking 112.5 million Americans (more than one one-third of the US population) going outdoors for the year-end holidays this month, Thursday, December 20, is anticipated to be the busiest day of travel this season. Pre-Christmas travel is likely to be delayed or affected late this week as the approaching storm may bring runways, roads and rails in the Southeast US to a halt. We at Travel Beats, an Indian American community portal by Indian Eagle Travel, share some tidbits from the latest weather forecast reports for your travel convenience this Christmas.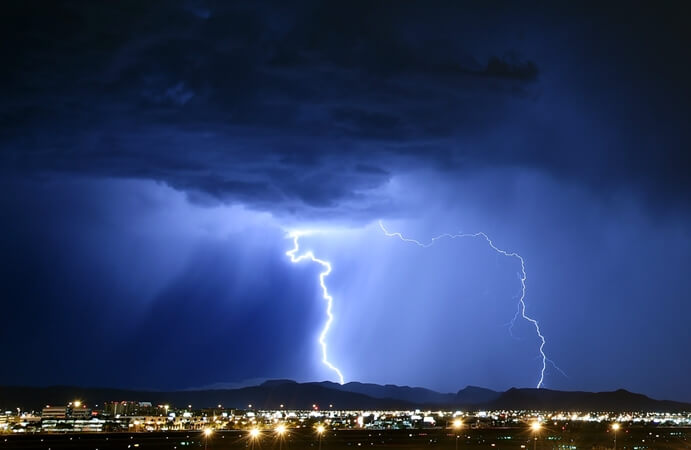 Waves of low pressure are spiraling out on the horizon of the eastern states, thereby paving the way to a soaking Thursday into Friday this week. Impact of the approaching storm will also be seen to some extent in the Central and the Southwest US, starting December 20.
On December, Thursday, a low-pressure system intensifying over the Southeast US will reportedly cause widespread rains throughout the eastern half of the country, from the Southeast coasts to the mid-Atlantic and Ohio Valley. Gales of thunderstorms are expected to cause some damage in parts of Florida. Some parts of the upper Midwest US may experience cold air due to the low-pressure system. Valleys in the mid and lower Mississippi are likely be affected by rain showers.
The Southwest US states and the Rockies will relatively feel dry on December 20, but the approaching storm will hit the Northwest US states and affect the day-to-day life of pre-Christmas travelers with high-elevation snow in some parts of Northern California. Interstate 70 from Baltimore to St Lois, Interstate 5 from Washington to Northern California, Interstate 75 from Florida to Michigan, Interstate 40 from North Carolina to Arkansas, Interstate 95 from Miami to New York, and Interstate 55 from New Orleans to Chicago will possibly be affected, thereby accentuating the chances of travel disruption this weekend.
Consequently, flight operations will possibly be delayed at Atlanta, Tampa, Orlando, Miami, New York, Washington DC, Philadelphia, Chicago and Seattle airports on Thursday, December 20.
Bad weather conditions will prevail throughout Friday, December 21 but with some relief to Christmas travelers. The low pressure system which is currently hovering over the Southeast horizon will shift towards Canada late on Friday after causing thunderstorms and breezy winds in the Northeast US states. The Appalachians, Ohio Valley and eastern Great Lakes may see wet snow on Friday night. Dry weather conditions are predicted in the Central Plains, except some light rain in Minnesota and parts of both Dakota states.
It may ring a travel alert for the airports in New York, Atlanta, Boston and Philadelphia on Friday, December 21. Travel on Interstate 80 from New York to Chicago, Interstate 95 from Washington DC to Maine, Interstate 40 from North Carolina to Tennessee, Interstate 70 from Baltimore to St. Louis, and Interstate 75 from Georgia to Michigan will likely be affected.
On Saturday, December 22, the storm system will move further into Canada. The lingering traces of the storm will cause some showers in New England. Some areas in the northern Plains may receive flakes from the receding trails of the weak storm system. However, a new storm system is predicted to brew rain and snow in the Pacific Northwest.
Delay or disruption of flights to and from all of the New York airports, including John F. Kennedy Airport may occur on Saturday, December 22. Traveling will be risky on the Interstate 5 from Washington to Oregon.
The whole of the United States is expected to have dry weather on Sunday, December 23, except the Pacific Northwest and parts of California where fresh spells of rain will possibly occur, which may delay flight operations at San Francisco International Airport. A travel alert may be issued for Interstate 80 from the Bay Area to Utah, and Interstate 5 from Washington to Northern California.
Fortunately, the day of Christmas, December 25 is safe for travel as there is no prediction of a major storm.