India celebrates the birthday of Pandit Jawaharlal Nehru on 14th November as Children's day. Referred to as Panditji, Nehru was a leader in the Indian Independence Movement. The first Prime Minister of independent India, Nehru was elected by the Indian National Congress as India's first Prime Minister in 1947.He was also one of the founders of the international Non-Aligned Movement.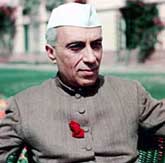 Father of Indira Gandhi and  maternal grandfather of Rajiv Gandhi, the Nehru legacy has a separate chapter in Indian Politics.
Nehru was very Fond of Children and often referred to as Chacha Nehru. He advocated children to have a fulfilled childhood and receive high education. Children's Day commemorates the birth of Jawaharlal Nehru with immense joy and magnificence throughout all educational institutions across India.
Schools organize various cultural activities, skits, rangoli and dance events and distribute sweets. Teachers perform special acts, dances and skits to entertain students who are celebrated on this special day. Chacha Nehru emphasizes on Children being the torch bearers for a brighter tomorrow.
The State and the Central governments  organizes "Children Film Festivals" with special screening for school children. Films meant to educate and illuminate the little minds are showcased free of cost. Competitions are conducted with widespread participation by children of all ages.
Shopping Malls and Play Areas are spruced up to resemble a carnival.
Chacha Nehru is also associated with his attire of pinning a fresh red rose to his coat everyday. He  made it a point to  wear a rose as a remainder of his life with his wife Kamala, who passed away in 1938 after a prolonged illness.
Affectionately called Chacha Nehru, Children will always cherish this day to commemorate childhood, love and innocence.