British Airways revolutionized the way the First Class travelers are gastronomically treated at the height of 35,000 ft, by launching Flying Burger, a new statement on food luxury in the sky. Bites of the Flying Burger will surely make your flight with British Airways in the First Class a fulfilling travel joy. A wonderful invention by the airline's chefs, the Flying Burger dish has been added to the First Class bistro menu on long-haul flights. It is served thrice cooked chips, a British version of French fries and other relishes.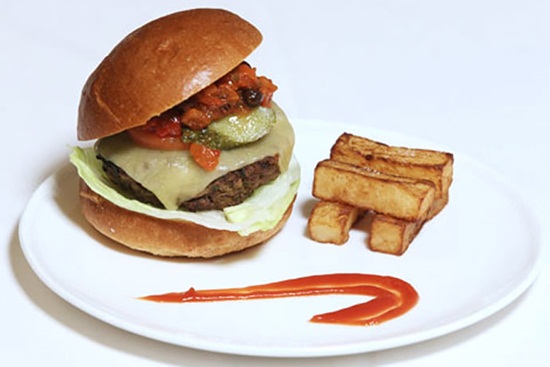 "This is no ordinary burger," said the master chef of British Airways while sharing about their 10-month long effort to get it perfect. The exclusivity of Flying Burger lies in enhancing the sensitivity of taste buds as the human ability to taste food reduces with the rising altitude. A lot of effort has been put in to make it taste delicious even at an altitude of 35,000 feet. Flying Burger has meticulously been created to cater to different palates of British Airways' travelers from different nations, according to the chef Mark Tazzioli.
The mix of three different cuts of British beef – chuck, cheek and onglet – is the secret to the succulence of Flying Burger. Though the beef is British in essence, the other ingredients are deliberately selected keeping in view the preferences of different nationalities. To say precisely, Americans are fond of Monterey Jack cheese; the natives of Poland and Germany prefer gherkins; the British, the Canadian and the American love tomato relish, while the French and the Italian go gaga over brioche bun.
British Airways is all set to launch a new "Grounded Burger" for the guests in their First and Concorde lounges across the globe.
IndianEagle.com makes sure to let you have a wonderful trip with British Airways at the best prices. The cheapest flight is as desirable as the Flying Burger!