Indian Aviation is gearing up to soar the skies under a new label, Boeing 787 Dreamliner, the commercial wide body airplane! The luxury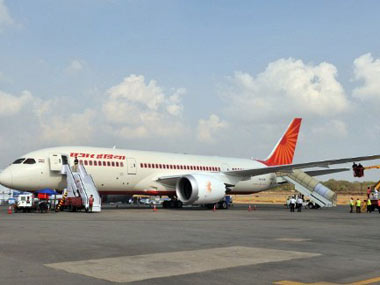 carrier has finally arrived for Air India. Scripting a path-breaking chapter, the Dreamliner has got business pundits predicting a new lease of life for Indian Aeronautics.
Celebration which were put on hold for a long time, have finally kicked off with a bang. Boeing and Air India have let out a sigh of relief.
"Today is a great day for Air India as the most technologically advanced and fuel efficient airplane in the world joins our fleet," said Rohit Nandan, Air India Chairman & Managing Director. "The 787 will allow Air India to open new routes in a dynamic marketplace and provide the best in-flight experience for our passengers."
Air India has pulled off the unimaginable. Fifth airline in the world to take delivery of the 787 Dreamliner, flying experiences will become  the Talk of the Town.The first of 27 Dreamliners for Air India, it boasts of 18 business class seats and 238 economy class seats. The volume makes the inclusion of many routes feasible.
"We are pleased to celebrate another historic moment in our nearly seven-decade long relationship," said Dinesh Keskar, senior vice president of Asia Pacific and India Sales for Boeing Commercial Airplanes. "I am sure Air India and their customers will be thrilled to experience the revolutionary features on the 787, an airplane that will be the key focus of the airline's turnaround plan."
Assembled in Everett, Wash, delivered from Boeing's South Carolina delivery center, the object of desire has state of the art facilities adding value for money, for the customer.
The Dreamliner was the bone of contention between pilots demanding colleagues from the former Indian Airlines, not be trained to fly Dreamliners. The ailing airlines had about 500 Air India pilots go on a two-month strike over exclusive rights to fly the Dreamliner.
Crafted with lightweight carbon fiber materials the Dreamliner is much lighter than standard aluminum wide body jets. It is the first mid-size airplane capable of flying long-range routes, enabling airlines to open new, non-stop routes preferred by the traveling public, Boeing said in a statement.
A shining light seems to appear at the end of the tunnel for the ailing Airlines. With the 787 Dreamliner in its kitty,  the Sky is the limit!