India is on a record-breaking spree. With the Kumbh Mela 2019 having set up three new Guinness World Records, India has gone extra mile to create history in the celebration of Diwali this month. A new feather in the cap of India is the latest Guinness World Record – the largest display of earthen lamps in the temple town of Ayodhya, Uttar Pradesh.
With the sparkling illumination of over six lakh earthen lamps or diyas penetrating the darkness of the new moon day over the banks of Saryu River, Ayodhya's deepotsav sent a message of India's unbridled enthusiasm and festive exuberance across the world this October 26. The Deepotsav 2019 broke the previous record of lighting 3 lakh 1 thousand clay lamps in 2018, for over Rs 130 crore allocated by the government of Uttar Pradesh.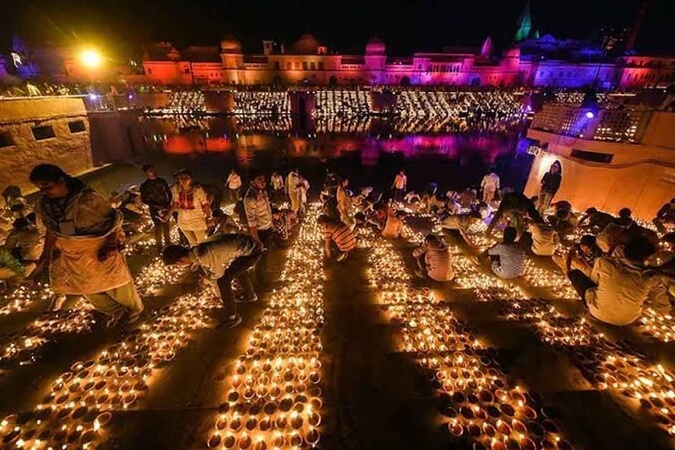 Elaborate preparations have been made for the five days of Ayodhya's deepotsav to celebrate the return of Lord Ram from the exile. People from different walks of life enthusiastically participated in the record-breaking event on the first day of the celebration. Bigger and grander than 2018, the Deepotsav 2019 has uplifted the religious-politically mired image of the place where Lord Ram is believed to be born.
The Deepotsav 2019, which the Chief Minister of Uttar Pradesh declared as a state event earlier, was followed by a symbolical rajya abhishek (coronation) of Lord Ram, a spectacular aarti, a flamboyant procession and the traditional Ramlila performance. Chief Minister Yogi Adityanath himself supervised the procession from the beginning till the very end. A massive stage for the coronation and Ramlila was set up at the amphitheater-like Ram Katha Park where artists from several countries gathered there for the celebration.
All of the diyas continued to be lit for a minimum duration of 45 minutes making Ayodhya's Diwali 2019 celebration enter the Guinness Book of World Records. A magnificent model of Ram Darbar (Court of Lord Ram) was created at the Ram Ki Paidi ghat which was illumined inch by inch with the glittering four lakh and ten thousand diyas.  The Ram Ki Paidi ghat was transformed into a never-never land where all that glitters is gold.
On the occasion of Ayodhya's Deepotsav 2019, Yogi Adityanath introduced various schemes worth Rs 226 crore and laid the foundation of some of them. The Deputy Speaker of Fiji's Parliament was invited to preside over the celebration as a chief guest this year. In 2018, South Korea's First Lady was the chief guest to the deepotsav of Ayodhya.
This story is brought to you as part of the initiative, "Explore India with Indian Eagle", aiming to promote what is good and inspiring about India through our overseas Indian community portal, Travel Beats. Travel Beats is a subsidiary of Indian Eagle Travel, a most sought after travel booking organization for cheap airline tickets to India.