India is the country with a maximum number of women pilots in the world, be it in Air India or Indian Air Force. This is a testimony of the contribution made by women to the aviation sector,
said Jayant Sinha, Minister of State for Civil Aviation, at an event for the Indian Women Pilots Association in 2017.
We at Indian Eagle wholeheartedly agree with Jayant Sinha in the latest context of how a woman pilot of Air India, Captain Anupama Kohli, averted collision with a Vistara plane in the domestic sky of India and saved hundreds of lives on the planes of both airlines.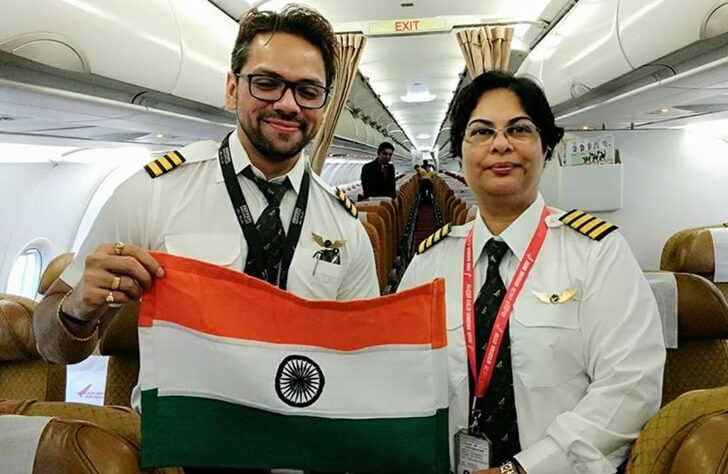 On February 7, Air India's Airbus A-319 (AI 631) from Mumbai to Bhopal, and Vistara's A-320 Neo (UK 997) came very close to each other in the midair. The planes of both airlines flying in each other?s opposite direction were hardly at a distance of 100 feet between them, according to a news report from the Times of India.
When the Vistara aircraft was flying down from its given level of 29,000 feet to 27,100 feet, Air India's pilot captain Anupama Kohli saw it moving straight towards the AI plane from her left side. There was a woman pilot among the crew aboard the Vistara flight too. Anupama heard the Air Traffic Controller arguing with Vistara's woman pilot.
While the argument between the Air Traffic Controller and the Vistara pilot was in full swing, the Vistara aircraft came within a distance of 100 feet from the Air India plane. The red sign in the AI aircraft's cockpit signaled an impending danger to Captain Anupama Kohli. But she neither hit the panic button nor found herself at her wit's end.
Following a resolution advisory (RA) from the Air Traffic Controller, Air India pilot Anupama Kohli jumped into action. She immediately steered the plane to a certain height from the then level and turned right to get out of the Vistara plane's path. The male commander of Vistara's A-320 Neo (UK 997) was on a toilet break during the juncture.
Thus, Anupama Kohli distanced Air India's Airbus A-319 (AI 631) to 600 feet away from the Vistara aircraft and avoided the tragedy which would otherwise have claimed hundreds of lives aboard. Both planes reached their respective destinations safely.
Air India applauded Captain Anupama Kohli for her presence of mind and quick action. Captain Anupama Kohli is a senior commander of Airbus 320 with experience of over 20 years. We at Indian Eagle salute her.
Air India is one of the few international airlines operating nonstop flights on certain routes between the United States and India. This commendable feat by Captain Anupama Kohli will surely benefit Air India and help the airline capitalize on the confidence of travelers. Though we book the cheapest Air India flights from USA to India, some of our customers prefer other airlines than Air India for some reasons. Hope, this incident will revive their lost faith in Air India, said a senior spokesperson of Indian Eagle, a leading travel booking organization.