Air France jumped on to the bandwagon of super luxury travel, with the move to launch the new First Class suite "La Premiere" in September this year. The national carrier of France is the latest to join Qatar Airways and Etihad Airways in the race for supremacy of First Class travel in the sky. Boeing 777-300 planes in the fleet of Air France will be equipped with La Premiere.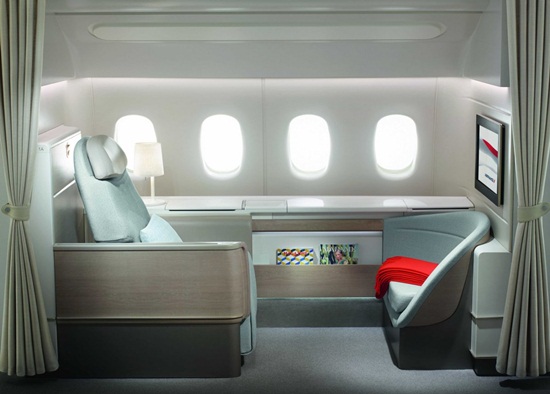 As the name suggests, "La Premiere" stands for the French art and science which is famous all over the world. Though not as palatial as "The Residence", the new boutique hotel style First Class cabin to be launched by Etihad Airways, "La Premiere" is Air France's signature statement on French luxury in the global aviation industry. 76 suites will be rolled out to 19 Boeing 777s on intercontinental routes, at the initial phase.
A 2-m long, fully flat bed is the mainstay of 3m² La Premiere luxury suites. The beds are refurbished with leather headrests and plush duvets. Each suite is separated from the other with a high-quality curtain for the sake of privacy. There is an ottoman style seat opposite the fully adjustable passenger seat in each suite so that a traveler can dine and chat with a friend or co-traveler. The passenger seats are accessorized with massage systems.
The exclusivity of La Premiere is a complete inflight entertainment station with 24-in HD touchscreen display. The entertainment programs are available in 12 different languages. Not only interior décor and entertainment system but also inflight dining facility in La Premiere comes with a touch of luxury. A group of Michelin-starred chefs will be serving an exclusive menu and an international wine selection to the La Premiere flyers.
Frederick Gagey, Chairman and CEO of Air France, says, "The haute couture La Premiere is an emblem of our commitment to striving to achieve excellence in offering an air travel experience with uber comfort and ultimate luxury of French hospitality to premium flyers."
IndianEagle.com books the cheapest flights with Air France to major destinations in the airline's global network.