The Fashion ou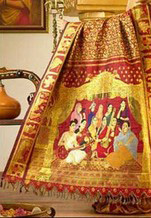 tlook in India has undergone a sea of change over the ages. Women have always been experimental and their choice of attire has varied from time to time. One garment has remained a constant feature in every Woman's wardrobe.The Saree.
The five yard wonder has stood the test of time. Trends have come and gone, the saree has become versatile in use. The special appeal adds to the Grace of any Woman.It's no Wonder, Saree are the hot favorite when it comes to Weddings and Festivals.
Marriages are never complete without a Kanchi Saree. This traditional attire makes any woman stand out in a crowd. India has a variety of Sarees but in Southern India, Kanchi sarees have held their ground.
Kancheepuram town near Chennai is referred to as the Silk City.Silk weavers produce the best quality of Sarees, which are exported to other countries. For 400 years these weavers have the skillful art passed down from generations.
Woven from pure mulberry silk the texture, luster, durability and finish has earned the garment the GI (Geographical indication) tag in 2005.This handloom Industry has dished out Kanchi sarees in every imaginable design. The double wrap and double weft have added to its durability and grandeur.
The border, pallu and the body of the saree are woven separately and then interlocked together. The strong weave keeps the pallu and border intact even if the material is torn.The intricate designs are made by dipping silk thread in liquid gold and silver. It adds to the value and authenticity of Kanchi sarees.
The borders have ethnic designs in strips, gold dots, motifs of birds, flowers and leaves. Of late, Painting of Raja Ravi Varma has been woven into Kanchi Sarees.
The fabric is suitable for couture; Fashion Gurus are showcasing Kanchi Sarees on the Ramp at Fashion Shows. Fashion Pundits have predicted a long inning for Kanchi sarees which are tailored into skirts, tops and stoles.
Kanchipuram Sarees are also known as Kancheepuram, Kancheevaram and sometimes Kanchivaram Sarees. Indian Eagle has great offers to coincide with the annual Silk Tourism Festival in the month of October. Book your Tickets to Chennai and be bowled over by the splash of color and finesse of Kanchi Silk Sarees.