While five Indian American students are riding the waves of news for becoming finalists of America's Top Young Scientist Challenge 2018, eight Indian Americans including these female researchers have made their way to MIT Technology Review's 2018 list of '35 Innovators under 35.' Inclined towards improving the immune system of the world, they aim their inventions at making a difference in billions of lives across the globe.
These Indian-origin female researchers and scientists are building technologies of the year for cancer drug development, effective diagnosis for early treatment, energy-saving industrial processes and lighter tools with better features. We at Travel Beats, an Indian community portal take pride in featuring these selfless achievers as part of our continued effort to promote good work by Indians worldwide.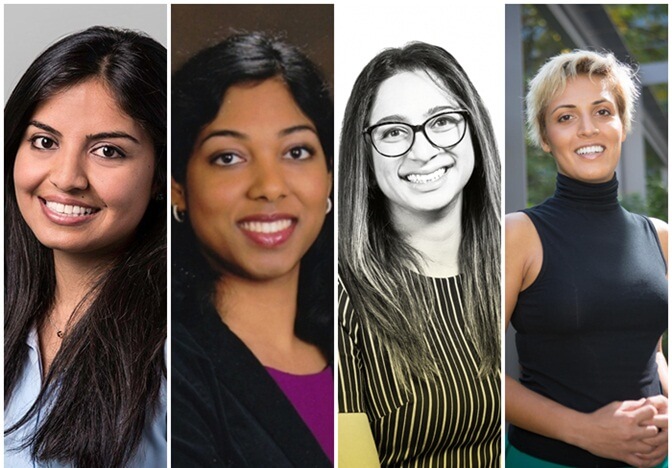 Humsa Venkatesh, California
One the 35 'Innovators under 35' on MIT Technology Review's 2018 list, Indian America Humsa Venkatesh is named in the category of pioneers for her breakthrough research on cancer. Cancer biologist Humsa Venkatesh is a researcher at Stanford University School of Medicine. As per LinkedIn profile, Humsa is on a mission to discover micro-environmental determinants of cancer growth for more effective treatment.
When her uncle died of kidney diagnosis in less than 24 months of the diagnosis, California-based Humsa Venkatesh was surprised to see the doctors' little understanding of the fundamental mechanisms behind the growth of cancerous tumors in the human body. Instead of becoming a doctor, she immersed herself in the research that discovered how tumors grow and thrive like a parasite by eating into the health of neural networks in different types of cancer.
Her discovery of cancer cells' parasitic behavior has not only opened up to a broader avenue of research on cancer treatment but motivated her to develop drugs to neutralize cancer tumors within their own environment.
Dr. Shinjini Kundu, Pennsylvania   
One of the 35 Innovators under 35 on MIT Technology Review's 2018 list, Dr. Shinjini Kundu is an Indian American doctor and scientist in Pittsburgh, Pennsylvania. She has created an artificial-intelligence system that helps understand subtle patterns and delicate details of medical reports and images, which are otherwise indiscernible to the naked eye. Her invention could have a major impact on the way diseases are detected and treated.
Knowing hidden defects which often remain undetectable in medical diagnosis helps recognize diseases at the very onset much earlier their symptoms develop. A Stanford University graduate, Dr. Shinjini Kundu says that her AI-based medical imaging system makes hidden or imperceptible details surface with markers on images. In 2017, she was felicitated at the NRI of the Year, Times Now's annual award show for achievers of Indian descent.
Shreya Dave, Greater Boston
The CEO of Via Separations, Shreya Dave is one of the eight inventors on MIT Technology Review's list of 35 'Innovators under 35' in 2018. She, along with her team has developed an energy-saving technology for industrial processes of separating chemical compounds from food, fuel, drugs and beverages. Industrial processes consume colossal amounts of energy to separate chemicals from commodities. Shreya Dave of Greater Boston Area is confident that her molecular filtration membranes will cut energy consumption by 50 to 90 percent in industrial processes which account for 12% of energy consumption in the United States.
Prineha Narang, Massachusetts
Among the visionaries on MIT Technology Review's 2018 List of 35 'Innovators under 35,' Prineha Narang is an assistant professor of computational materials science at Harvard University. The behavior of materials, at a nano scale, in different states such as optical, electronic and thermal is the focus of her studies. 'How materials interact with light and other forms of electro-magnetic radiation' is the subject matter of her research which is aimed at developing innovations in nanoscience for better technologies. Innovations could include lighter cell phones cell phones and telescopes with better cameras and lenses respectively. She resides in Massachusetts.