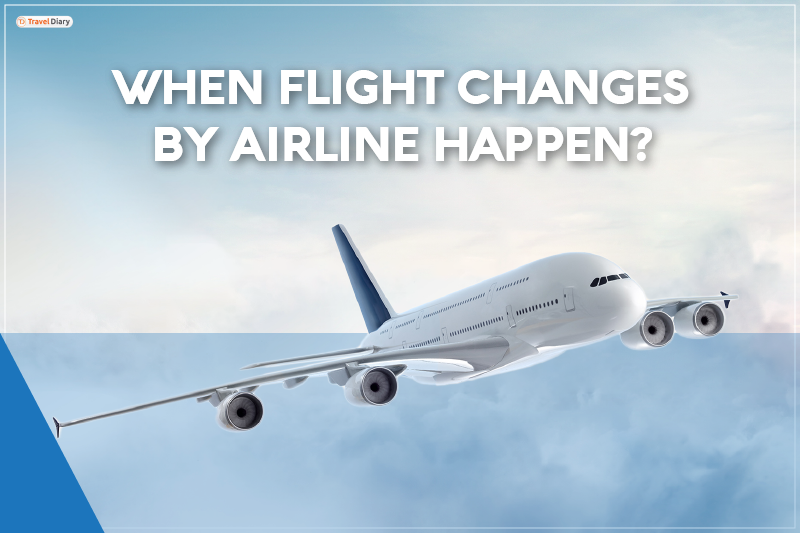 You are very excited about your trip. You have planned everything, booked your flights, hotels, created a to-do list, etc. Then, suddenly, you get a notification from your flight carrier mentioning the flight changes by airline to your itinerary. These modifications can range from minor changes in flight timings to more major ones such as changes in airline or cancellations of flights. Now, what would be your next move?
Unexpected schedule modifications from airlines can be irritating and inconvenient. But it's crucial to know how to deal with them. You need to be aware of your rights, be prepared to manage the issue, and ensure that your travel plans go as smoothly as possible. Here are some suggestions to help you deal with when the airline makes changes to the flight timings or routes.
Stay Calm
Do not lose your temperament. You have to maintain calmness even when flight changes by airline occur suddenly. There are ways to act in a certain manner to deal with the situation when an airline changes flight time. You need to maintain politeness while speaking with the customer service executives of the airlines as they are also dealing with the same situation. Try to support them as they are also there to support you.
Also Read: Benefits of Booking Flights in Advance
Contact the Airline
If an airline changes your flight, call the airline's customer support immediately to know your options. Maintain your composure while talking to them and make them understand your problem and situation. You can contact them via their customer care email id, phone number, or website. While contacting the airline, always maintain the track record of your booking to make rational arguments with the airline customer service executives.
Understand Your Options
Go through the flight changes by the airline, including modifications, refunds, and cancellation policies of the airline to prepare for your options. It's very helpful while talking to the customer care executive as you already know the alternatives. Now, just calm your mind and think about the options you can avail of in further processing.
As per the airline policy, you can ask for compensation or get a full refund. Do not worry at all. Here are the major options available to you. We will go through each option one by one for better understanding.
When the Airline Cancels the Flight
When the Airline Changes the Itinerary of the Flight
When the Airline Moves You to Another Flight
When Airline Cancels the Flight
There are several options available in the case of modifications made by the airline to your flight. The first one is if the airline cancels your flight and you do not want to rebook. Depending on the airline's policies, you can ask for a full refund, or request a voucher from the airline or their partners to redeem for your future itineraries.
You can explore other modes of transportation if it is possible to reach the destination. You can look for available flights with other airlines for the same route as your flight is canceled. Remember that these flights may cost more than the original ticket price.
When the Airline Changes the Itinerary of the Flight
If the airline changes your itinerary significantly, you have many options to consider depending on your preferences. You can accept the changes if not major, like getting a different seat assigned.
If the change in the itinerary affects your travel plan in a significant way, you can opt for rebooking the flight as per your preferences. In that scenario, the first thing you should do is check online and see what other flights from that particular airline are available. You should choose the best option to suit your itinerary. You can negotiate with the airline for an upgrade, a voucher for future flights, or any additional service during your trip.
But after considering all the factors, if you do not want to rebook your flight, you can ask for a refund.
When the Airline Moves You to Another Flight
If your flight is canceled and the airline changes your carrier by transferring you to the other one, make sure to check the new flight details like the route, departure time, or any delays. Keep track of the departure and arrival times as well as any connecting flights or layovers to avoid further issues. If the new flight does not work for your schedule, you can request a different option. Be in constant touch with your airline, get up-to-date information and clear all your doubts regarding your new flight.
After considering everything from your route to your suitable timings, if changing flights from one airline to another does not work for you, you can refuse to accept the airline's offer and ask for a full refund, no questions asked.
Always prioritize your comfort while traveling; if anything is not working following your plan, look for another option.
Booking flights to India can be a straightforward process with the Indian Eagle, a flight booking website. Indian Eagle provides the best flight offers with a hassle-free process of booking online cheap tickets. You can book your Indian Eagle one way flights to India while taking advantage of Indian Eagle deals and saving more on your tickets.