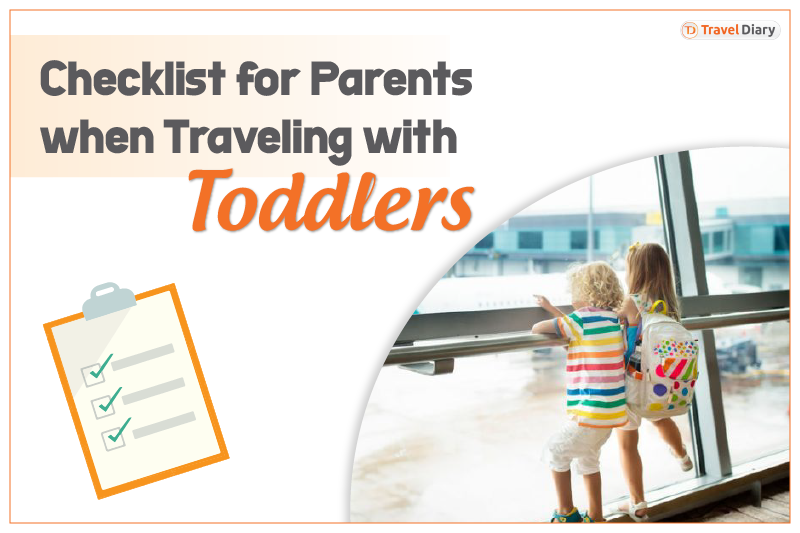 Flying isn't the most pleasant experience, with confined airplane seating and crowded waiting areas—and the frustration multiplies exponentially when you add a rowdy toddler into the mix. Usually, many kids despise sitting quietly for long periods and are afraid of ear-popping changes in air pressure.
Moreover, with proper preparation and planning, you can have worry-free traveling with toddlers on plane. Check out these stress-reduction strategies for flying with a toddler if you're flying to a relative's house or on any family trip.
How to travel with toddler?
To make things easier for parents who are trying to travel with their children for the first time or again, we have created a toddler travel checklist with numerous tips to help you plan your trip with ease. Let's explore them.
Tips for traveling with toddlers 
Book early departure flights
Pack only needed things
Pick a kid-friendly flight
Choose your destination carefully
Prefer quiet activities 
Get toddler hygiene essentials 
Book early departure flights
It's your best bet for avoiding delays during take-off and landing. Flights leaving early in the morning are usually less crowded. Everyone, especially children, is tired after a long journey and just wants to nap. Also, avoid flights with long layovers or late-night connections if at all possible. If you can plan your flight around their nap time, and travel with toddlers tips, you can often have a very peaceful and relaxing trip.
Pack only needed things
Many people believe that there would be not enough necessities on a flight that would be appealing to a child. When parents traveling with toddlers on plane, they usually bring far too much stuff to keep their children happy. They forget they have to carry all of their belongings off the plane along with their children. To keep things simple, try to pack only one family suitcase. so you won't have to lug multiple bags, and you'll have one hand free to guide small passengers through the airport.
Pick a kid-friendly flight
Nothing makes a family-friendly airline happier than contented kids. As a result, many major airlines provide a variety of kid-friendly perks to offer their youngest passengers, ranging from a wide selection of their favorite TV shows and movies to kid-approved headphones and snacks. The kits, which are available on all mainline United flights, include a child-sized mask, a travel journal activity book with crayons, and an origami paper airline kit, among other things.
Also Read: 5 Family Travel Tips for a Great Vacation with the Kids
Choose your destination carefully
When planning traveling with toddlers on plane, it would be critical to consider their ages and interests when selecting a destination. If your children are very young, choose a location with a variety of kid-friendly activities. They may be more interested in exploring new places and trying new things as they get older. Plan the vacation as per the interests and age of your kid to make your trip a memorable one.
Prefer quiet activities 
It's difficult to entertain toddlers on a plane, where you have to be mindful of other passengers and can't stop for breaks. Coloring books and art projects with linoleum, magnetic, or adhesive cut-outs keep little hands and minds occupied. Consider withholding something; surprising toddlers with new toys is a sure way to capture their attention. If everything else fails and a tantrum breaks out, offer to buy drinks or their favorite snacks for them.
Get toddler hygiene essentials 
When traveling with toddlers, a well-stocked diaper bag can be a lifesaver. Wet wipes provide a basic level of hygiene for people of all ages, while plastic zip-close bags can hold everything from toys and snacks to wet bathing suits and soiled shoes – and, in a pinch, garbage or diapers. You should also keep a change of clothes on hand for yourself and your toddler in case of a sudden spill.
So, whether you're riding or flying across the country, these tips for traveling with toddlers will help you make the most of your journey. Are you planning a trip to India with your family? Get the low-cost USA to India flights with Indian Eagle and enjoy a budget-friendly trip.
Book your international flight tickets today and make traveling with your kid a breeze!