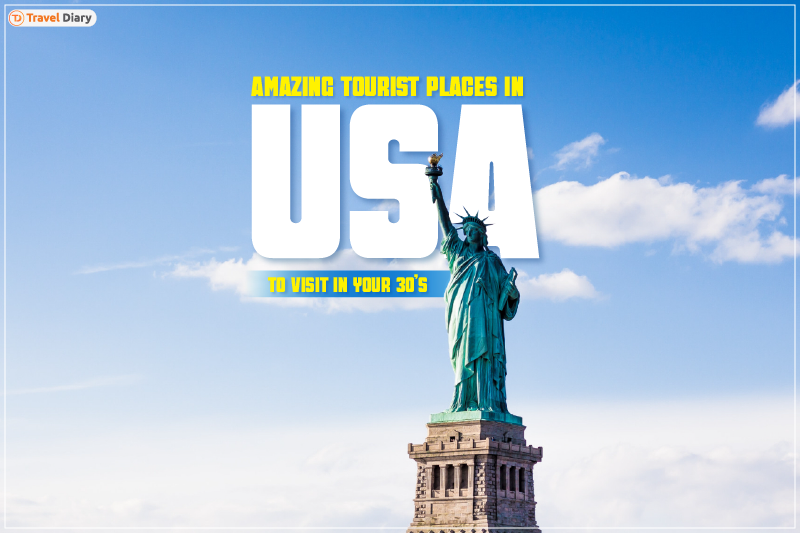 The age of 30s is the time to explore! There are plenty of perfect places to visit in US, where you can have a blast, whether you are holidaying for a few days or a month. At the age of 30s, usually people start looking for tourist places in USA to travel and have leisure. 
You will think you are fortunate enough to visit these places in your 30s which gives you a crazy experience. Enjoy popular adventurous activities like skiing, hiking, and mountaineering with thrilling joy. 
Here are a few best

tourist places in USA

to visit in your 30s.
New York City, New York State
Sedona, Arizona
Vail, Colorado
Big Sky, Montana
Joshua Tree, California
The Overseas Highway, Florida
1. New York City, New York State
New York, a world-class city, is considered to be a paradise for people in their 30s that gives amazing fun. A classic, urban, and modern city, NYC is visited by many tricenarians every year. Generally, the city of New York is one of the most popular tourist destinations in USA. 
Plan your trip and fly to this city at a discounted fare by booking Indian Eagle international flights.
You can also visit popular attractions like
Empire State Building
Central Park
Times Square
Statue of Liberty
2. Sedona, Arizona
Sedona is one of the best tourist places in USA for people in their 30s to enjoy scenic drives, hiking trails, restaurants, and shops. Dine at a few tasty restaurants and enjoy the thrilling hiking trails. 
This place is quite attractive with red rock formations. You can view Bell Rock or Cathedral Rock from the other side of the Mississippi river.
Sedona offers many hotels, restaurants, full-service spas, and centers for spiritual growth, wellness, and meditation. You can find tourists taking part in workshops and classes related to spirituality and wellness.
3. Vail, Colorado
If you want to learn something new in your 30s or try a thrilling sport, then Vail in Colorado is an ideal location. It is one of the best skiing destinations in the US. This place is home to a few pristine skiing spots, where you can also take lessons in skiing and snowboarding. Book a hotel with a spa attached and enjoy your 30s happily skiing at Vail. 
4. Big Sky, Montana
One of the famous places in USA, Big Sky, is popular with adventure enthusiasts. You can find people hiking and biking here in summer and fall. In the winter, this place becomes a popular skiing destination and you can see tourists gathering here in huge numbers to enjoy this sport. 
You can also try night skiing here and enjoy candlelight dinners. There are plenty of luxurious hotels that offer a comfortable stay.
Also Read: Cheap Places to Visit in USA
 5.
Joshua Tree National Park, California
Joshua Tree National Park is located in California and it makes you free from all things routine. It is one of the unique places in US and is known for its striking desert landscape. The atmosphere at this park makes you enjoy the peaceful experience. 
"The Integratron", a popular local destination and a fantastic spot to camp offers you public sound baths and meditation events.
6. The Overseas Highway, Florida
The excitement at the age of 30 calls for a road trip. Many roads in the US might confuse you but the same is not true with the Overseas Highway that give you a thrilling experience. It is a long road that you might take an entire day to ride as this highway runs nearly 113 miles from Florida through the Florida Keys, taking you across approximately 42 bridges and over the beautiful crystalline waters.
Visit the Bahia Honda State Park, one of the most beautiful places in USA, an uninhabited island where you can have a dip and fish in the clear waters. By continuing further, you will reach Key West, where you will find good hotels serving delicious food.
These are a few best US destinations to visit in your 30s and if you are looking for USA flights, then fly to these places at a low fare by booking Indian Eagle cheap flights.
Disclaimer: 
Indian Eagle claims no credit for the images featured on its blog site. All the visual content is copyrighted to its respective owners only. We mention the source name of the image whenever possible and found. However, if we miss acknowledging the owner's source, please contact us. In case, owners don't want us to use their images, we will remove them promptly. We believe in providing proper attribution to the original author, artist, and photographer.