Shopping is therapeutic for most people. Buying a lot of useful stuff at throwaway prices can make anyone happy, and if you are looking for such a rewarding shopping experience in Bengaluru, then this article is for you. 
Best Shopping Places in Bengaluru
Commercial Street 
Malleshwaram 8th Cross
Chickpet
Brigade Road
Jayanagar 4th Block
MG Road
Gandhi Bazar 
Avenue Road
Shivajinagar
Dubai Plaza
Street shopping at these places is big, and you can scour the many stalls lining these bazaars (and bargain a bit) to get the best quality products at cheaper rates. From budget clothing to jewelry, and accessories to souvenirs, you can find everything at these street shopping places in Bengaluru.  
Commercial Street
A busy bazaar; Commercial Street is a paradise for shopaholics. It is probably the most famous of all shopping places in Bengaluru. The long street is packed with numerous stalls that sell a diverse range of items besides clothes. You can get imitation jewelry, sports goods, and antiques – all at affordable prices, but you might need to walk a lot and deal with a huge crowd thronging Commercial Street, day through night.
Malleshwaram 8th Cross
A stroll along the 8th cross lane in Malleshwaram is like a treat to your senses! Just walk the bustling lane to take in the vivid colors and fragrances of tons of fresh flowers, fruits, vegetables, and spices sold here, even if you don't intend to buy perishable items. You will also find stalls that sell handicrafts and other items. And when you spot the eateries tucked between the busy stores, walk toward them and gorge on the delicious street food in Bengaluru.
Chickpet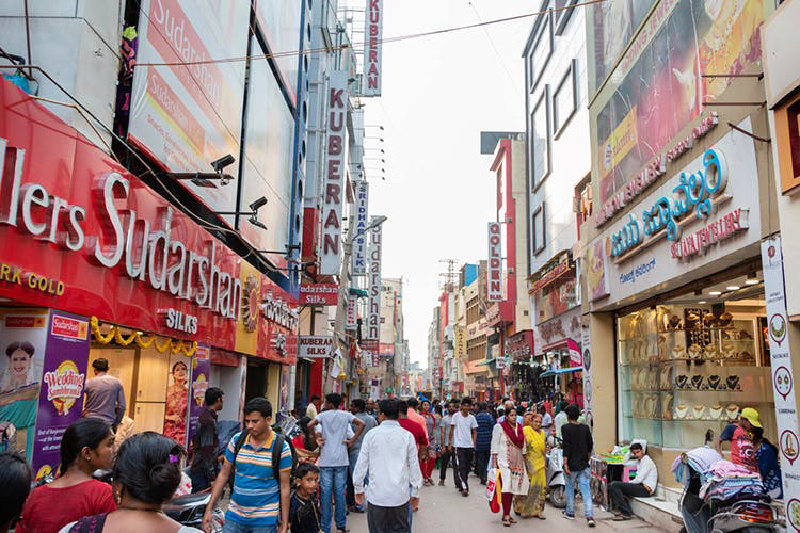 Chickpet, literally meaning 'small market,' is the go-to shopping destination in Bengaluru to buy the best quality silk sarees and kurtis at cheaper rates. This 400-year-old market is among the oldest commercial districts in the city and thus, the most popular too. The variety of sarees available here includes the traditional Kanjeevaram, Benaras, and Mysore silk sarees as well as the latest chiffon and crepe ones. Near Chickpet, you can visit Raja Market for gold and silver jewelry, Balepet for bangles, and Nagarthapet for handmade musical instruments.  
Brigade Road
While MG Road in CBD (Central Business District) gets featured in almost every list of the best shopping places in Bengaluru, Brigade Road which is located a little away from MG Road remains mostly unknown to outsiders. This commercial center boasts of several branded showrooms, where you can buy items such as clothes, footwear, jewelry, electronics, furniture, home decor, etc. Shopping for branded products is surprisingly affordable at Brigade Road. 
Jayanagar 4th Block
Jayanagar 4th Block is known for its labyrinthine lanes flooded with shopping stores that sell everything from garments, footwear, and accessories to home decor items and confectionery products to books and novelties. There is nothing that you cannot find here! You can get clothes for as cheap as INR 200. Beautiful artwork, pottery, and sculptures are the best Indian souvenirs you can buy at this shopping complex.
These budget shopping places in Bengaluru are where you need to go for a great shopping experience. Do check them out during your next trip to Silicon City. Look no further than Indian Eagle for the best deals on flight tickets to Bengaluru. Book tickets and earn reward points!