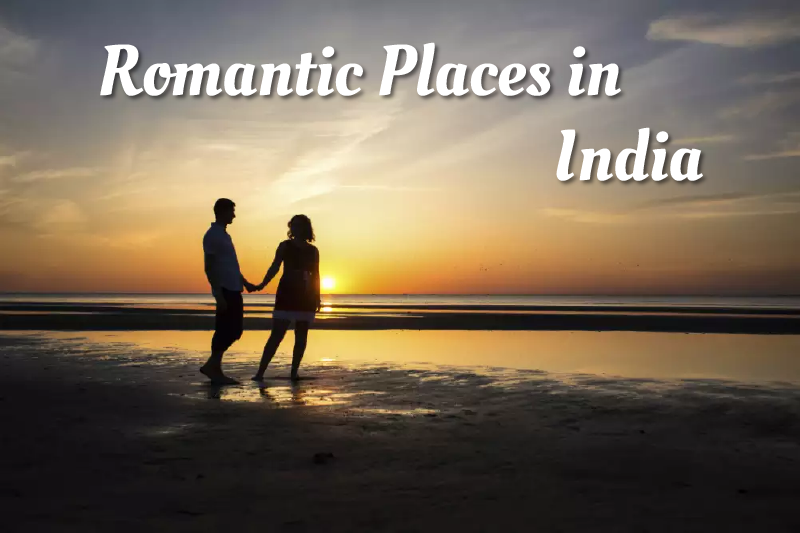 India is a country that has something for everyone and all age groups, ranging from children's parks to family places and romantic getaways for couples. 
Here are some of the most romantic places in India. 
Udaipur

Andaman

Ooty

Darjeeling
Udaipur 
Known as the Venice of the East, Udaipur is a charming city that looks like it is straight out of a movie. It is located in the Indian state of Rajasthan. The sparkling serene lakes, magnificent hills, the flora and fauna in the forested areas, and the vibrant markets is what makes it one of the most romantic places in India. 
Visitors here can go on a boat ride on Lake Pichola and explore the houses once owned by the Mewar royalty, the Jag Mandir, and the Udaipur City Palace complex. You can also consider spending some time with your partner at Summer Fort and Kumbhalgarh. 
For breakfast, you should consider going to a quiet English café and for dinner, a Rajasthani thali should be very fitting. 
How to reach Udaipur by train: To reach Udaipur, you can consider taking Mewar or Chetak Express from Delhi. 
How to reach Udaipur by flight: Maharana Pratap is the closest airport, located 23 km from Udaipur.
Andaman
Andaman is on the list of every couple's favorite romantic getaways on a budget. In fact, it is one of the best honeymoon places in India. It is a union territory in India, located in the Indian Ocean beyond the Indian peninsula. It has 572 islands. 
You can spend some quality vacation time with your partner here where urbanization has not lent its hand. Grab a cocktail and lie on the sandy beach. Go scuba diving, snorkeling, sea walking, and kayaking in the vast ocean. If you want, you should taste the delightful seafood. When you're relaxing on the beach again, take a trip to gorgeous Ross Island. It is everything a young couple would want on their trip! 
How to reach by flight: You can fly directly from Kolkata, Chennai, or Vishakhapatnam to Port Blair. 
How to reach by ship: You can go by ship via Kolkata or Chennai. 
Also Read: 10 Heavenly Peaceful Places in India to Visit for an Incredible Experience
Ooty
A hill station located in the Nilgiris, Ooty is one of the cheap romantic places in India. The lush green tea estates, the winding ghat roads, and the steep bends of the roads are the most attractive features, especially for adventurous couples. The place is also untouched by urbanization and the general pollution of the city, so it can be a quiet vacation place. 
You can consider taking a private stroll through the botanical garden, Ooty Lake, and the tea estates. You can also trek till sunset point to experience the breathtaking view of Doddabetta. Ooty is the best place to pick your stocks of aroma, eucalyptus oil, handmade chocolates, organic honey, and pretty antiques. 
How to reach Ooty by trail: To reach Ooty, you can take a train to Mettupalayam and drive uphill. Meter gauge trains are also available from Mettupalayam. 
How to reach Ooty by flight: Coimbatore is the airport nearest to Ooty, about 100 km away. You can catch a flight to Coimbatore from either Chennai, Bangalore, Madurai, or Hyderabad. 
Book your flights from USA to India now for this most spiritual experience!
Darjeeling
A hill station in West Bengal, Darjeeling is a beautiful place to spend some quality time with your partner. Despite its great height from all civilization, it has its own charm in its majestic hills, beautiful tea gardens, and the beauty of the sunrise at Tiger Hill. It is easy to understand why it is considered to be one of the best places to visit for couples in India. 
You can get an amazing view of the mighty Kanchenjunga, the third largest mountain in the world that is located in both India and its northern neighbor Nepal. You should not forget to shop for locally handcrafted materials and winter wear. There is also a toy train that will take you on a trip from Darjeeling to a neighboring place, Ghoom. 
How to reach Darjeeling by flight: Bagdogra in Siliguri is the airport nearest to Darjeeling, about 65 km away. 
Also Read: Top 6 Famous Places to Visit Near Darjeeling
These are some of the most romantic places in India. Follow Travel Diary for travel articles!