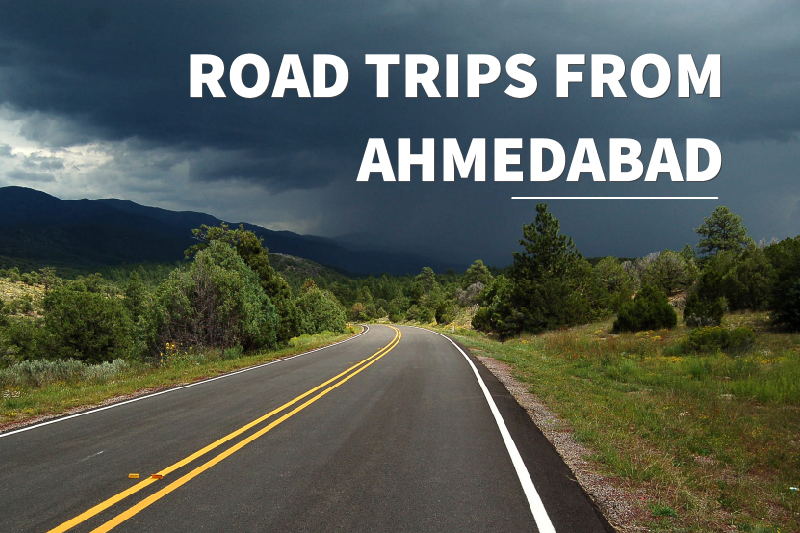 A road trip is one of the coolest ways to discover new places. Whether you're traveling alone or with a group of friends, you can treasure the journey and create countless special memories along the way.
It will serve as a stress reliever. Let us delve into it and explore the most exciting road trips from Ahmedabad that stimulate the cords of your mind and body. As road trips in India can be very helpful to shed stress for those who are riders or used to travel a lot for a change.
Which location is ideal for planning a long road trip?
Ahmedabad is an ideal starting point for a road trip because of its proximity to numerous scenic destinations. Gujarat's former capital is strategically located near many other states, including Rajasthan, Maharashtra, and Madhya Pradesh. Road trips from Ahmedabad are full of pleasant surprises, from bird sanctuaries and wildlife reserves to hill stations and historic towns.
Here are some of the best road trips from Ahmedabad for long and short weekend getaways when you want to get behind the wheel on your next vacation!
Kumbhalgarh – 353 Kms from Ahmedabad
Modhera – 98 km away
Nalsarovar – 62 Kms
Mount Abu – 220 Km
Kutch – 400 Km
Gir National Park – 330 Km
Kumbhalgarh
The fort was built in the 15th century by Rana Kumbha and is surrounded by the Aravalli range's mountain peaks. It is surrounded by a 36-kilometer-long wall and contains 360 Hindu and Jain temples, palaces, and halls. The Thar Desert sand dunes can be seen in the distance from atop the walls of Kumbhalgarh Fort. While in Kumbhalgarh, visit Wildlife Sanctuary and go on a safari to see Asiatic lions that have been relocated here, as well as other wildlife such as wild boar, sloth bear, hyena, and chinkara, to name a few.
Also Read: City Guide of Ahmedabad
Kutch
This fascinating location stands out as one of the most beautiful in India. This is often referred to as the "white salt desert," and it is located in the Rann of Kutch region. On the way from Ahmedabad to the Kutch road trip, one can also admire the beauty of the vast expanse of empty land.
Modhera
Modhera is home to the well-known Sun Temple. The main temple, which was built in 1026 AD during the Solanki dynasty, once housed an ornate gold chariot. The four terraces descending into this step well and the two towering ornamental arches that form the gateway to the Sabha Mandap are remnants of the grand complex. The walls of Modhera's Sun Temple depict erotic motifs that represent religious life.
Nalsarovar
Birdwatchers will be in for a treat at the Nalsarovar Bird Sanctuary, which spans 120 square kilometers of lake and marshlands. The lake, Gujarat's largest wetland bird sanctuary, attracts over 210 species of indigenous and migratory birds. Some of the birds that visit the sanctuary to nest include rosy pelicans, white storks, flamingos, and herons. A boat ride is the best way to see Nalsarovar Bird Sanctuary.
Read more: Interesting places to visit in Ahmedabad
Mount Abu
Mount Abu, located in the desert state of Rajasthan, is one of the best road trips from Ahmedabad. It is a welcome mountain retreat at an elevation of 4,003 feet above sea level. Nakki Lake, surrounded by lush mountains, is a hive of activity. It is home to the famous Jain Dilwara Temples with their intricately carved facades and the ancient Gaumukh Temple, in addition to the evergreen forests and cool mountain air. Another notable temple is the Achaleshwar Mahadev Temple, which is dedicated to Lord Shiva and is located next to the 14th-century Achalgarh Fort.
Gir Forest National Park and Wildlife Sanctuary
Gir Forest National Park and Wildlife Sanctuary, also known as Sasan Gir, is a 1400 square kilometer area dedicated to Asiatic lions. The topography is a mix of grasslands and dry deciduous forests with teak and fruit-bearing trees such as beer and jamun, making it one of Asia's most protected areas. While the lion is the most popular attraction here, other wildlife species that live here include leopards, hyenas, antelopes, jackals, and wild boars.
So, these road trips from Ahmedabad are worth taking. You will be thrilled while taking in the experience of the road as well as the scenic beauty of the neighborhood. It gives you unparalleled peace of mind, which will assist you in the best way possible.
Are you planning a trip to Ahmedabad from Atlanta? So, what are you waiting for? Book Atlanta to Ahmedabad flights with Indian Eagle today and make countless special memories on the way.