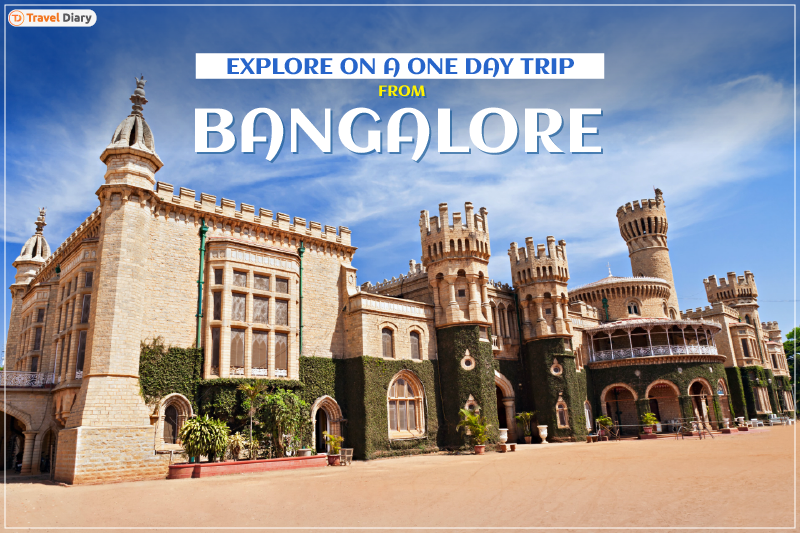 Are you working from home or a student in Bangalore? Do your days appear endless and exhausting? A calming trip away from the hustle-bustle of the busy city is just what you need to unwind and refresh your mind. A one-day trip from Bangalore is possibly the ideal retreat for students who are limited by budget and time. Take your friends or family out for a short and enjoyable ride, or simply ride alone.
There's something for everyone, from steep hills to lush greens to scenic lakes and heritage sites. These picture-perfect views are best enjoyed with superhit music and your friends' laughter. Maybe even a cup of hot coffee! So, let's discover some of the top places to visit on a 1-day trip from Bangalore that makes you grab your backpack and go on a scenic adventure like there's no tomorrow!
List of one-day trip places in Bangalore
Balmuri and Edmuri Waterfalls
Nandi Hills
Talakad
Bannerghatta National Park
Devanahalli Fort 
Manchinbele
Balmuri and Edmuri Waterfalls
Balmuri and Edmuri Waterfalls are popular for a one-day trip from Bangalore that offers an idyllic setting for spending quality time with friends and family. The green coconut palms adorning the shores and the cascade of water combine to give this location a scenic and mystical appearance. Edmuri Waterfall is located about 500 meters to the east of Balmuri Waterfall and is ideal for swimming and other aquatic activities. Visitors can also go to an ancient Ganesha Temple near Edmuri Waterfall.
Nandi Hills
Nandi Hills, one of Bangalore's most popular day trips, is often referred to as a "hidden paradise." Fantastic views of the lush landscape can be obtained from a 600-meter-high cliff. Witnessing the sunset and sunrise with beautiful hills in the background is also a must-have experience for couples looking to spend some romantic time together and book couple-friendly hotels in Bangalore for a safe stay.
Also Read: Trekking Places Near Bangalore
Talakad
Talakad, located on the banks of the Kaveri River, is a mystical town that culture enthusiasts must visit on a one-day trip near Bangalore. It is more than an architectural paradise, with beautifully carved temples and a spiritual aura. The town has five Shiva temples, which give it a high religious significance. Some of the popular temples in this area include Vaidyanatheshwara Temple, Maruleshwara, Muduhuthore, Arakeshwara, and Pathaleshwara Temple.
Bannerghatta National Park
Bannerghatta National Park, one of the city's closest tourist attractions, is a wildlife enthusiast's dream. It is home to a variety of animals and birds and covers an area of 260.5 square kilometers. The wildlife safari is one of the park's main attractions. Visitors to the national park can also visit the crocodile farm, as well as the butterfly and snake parks.
Devanahalli Fort 
The Devanahalli Fort, a stunning blend of history, culture, and architecture, is one of the best one-day trip places in Bangalore. It was originally a mud structure built by Vijayanagara Empire vassal Chieftain Malla Byre Gowda. It was the year 1501. Hyder Ali transformed the fort into a stone structure in the late 18th century, and it still stands tall and proud today. The fort is spread out over 20 acres of land and is protected by the Archaeological Survey of India.
Manchinbele
Manchinbele is a small water reservoir popular with those looking for a quick break from the monotony of city life. This location, about 50 kilometers from the city, is popular with bird watchers and visitors who come to see the sunset. Aside from that, it has some fantastic adventure sports to offer. With activities such as kayaking, rappelling, and raft building, this location is sure to leave you breathless; in a good way, of course.
On a one-day trip from Bangalore, there are a plethora of spectacular places to enjoy and explore. No weekend will be boring if you are willing to drive outside of the city, and the availability of cheap flights to Bangalore from Indian Eagle will make the journey extremely comfortable.
Are you planning a trip to Bangalore with your family from Dallas? Now is the time to book low-cost flights from Dallas to Bengaluru with Indian Eagle.