While Hyderabad experiences may typically be tied to touring its iconic attractions (Charminar, Golconda, Chowmahalla and Falaknuma Palaces, Ramoji Film City, Birla Mandir and Planetarium), exploring the treasures of its famous museums (Salar Jung Museum, Hyderabad Museum, and Sudha Car Museum) and indulging in plates of delicious Hyderabadi biryani; the city's surprises surely don't end here. You may need to take the road less traveled in order to discover the diverse Hyderabad experiences, unknown to many. And some of these lesser-explored roads lead you to the following offbeat places in Hyderabad.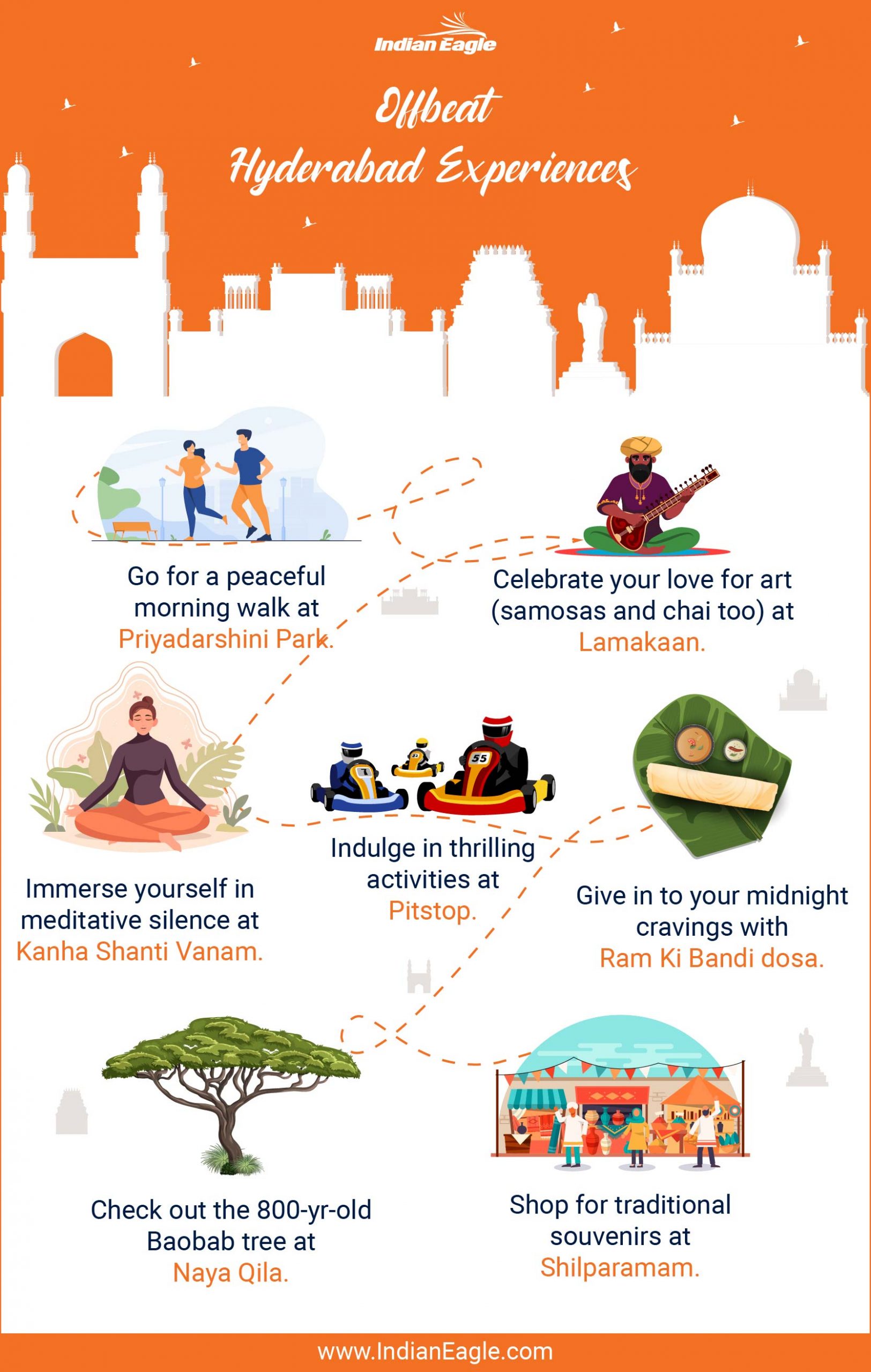 Priyadarshini Park
There is no dearth of green spaces in this cosmopolitan city, thanks to the Telangana Government's 'Haritha Haram' initiative (which aims to expand the green cover in the state from the present 24 to 33 percent). Several urban parks set up across Hyderabad in recent years have spruced up the urban landscape, besides catering to the recreational needs of people.
One long-time favorite of the locals is Priyadarshini Park, which sprawls across 20 acres along the bank of the Saroornagar Lake. It features walking tracks winding through the pretty landscaped gardens, exercise fields, an Olympic track, tennis courts, a gymnasium, and a playground for children. Boating on the lake during the sunset is a beautiful experience. With the golden sheen of the sun's soft rays rubbing off on the shimmering surface of the lake, the sunrise/sunset looks extremely gorgeous here! The entry fee for this park is INR 5 only, and it is open from 5 to 9 in the morning and from 3 to 8 in the evening.
Lamakaan
Lamakaan defines itself as Hyderabad's open cultural space; but for the patrons, it is more than just a stage for art exhibitions and theater performances. It is a place where they can be themselves; whether enjoying one's own company or engaging in a discussion/debate on any subject with random people. Lamakaan essentially provides a platform for artists to explore their creativity or express it to a crowd.
You may come across different kinds of people at this offbeat place in Hyderabad – some hanging out with friends and others sitting in a quiet corner and working on their craft. Apart from the events (which include plays, film screenings, book launches and poetry sessions), what enchants the crowds at Lamakaan is their food. The simple home-style menu offers some classic Hyderabadi dishes (no, not the biryani) like Irani chai, samosa, and khatti dal.
Kanha Shanti Vanam
Just on the outskirts of the city lies the largest meditation center in the world, yet it is surprisingly one of the offbeat places in Hyderabad. Situated about 30 km from Rajiv Gandhi Airport, Kanha Shanti Vanam is a paradise for peace seekers and spiritually-inclined travelers. It sprawls across 1,400 acres and houses the headquarters of the Heartfulness Institute.
At the heart of Kanha Shanti Vanam lies the state-of-the-art meditation hall that can hold 1,00,000 members. The training & mentoring programs guide the seekers in their path of self-discovery through heartful meditation. There is an auditorium, conference hall, a children's park, an in-house nursery, a library, a goshala (shelter for cows), a gym, and other modern facilities within the premises. Surrounded by green environs and submerged in tranquility, this place is where you need to go to connect with your inner self as well as nature.
Pitstop
Pitstop is a one-stop destination for all adventure lovers looking for offbeat things to do in Hyderabad. This gaming center near the Necklace Road offers go-karting zones, bowling alleys, ATV riding tracks, and zip lines too. Sky cycling is their latest adventure activity on offer. Cycling on a tightrope fixed at a point high above the ground is thrilling, to say the least. And after you have exhausted yourself with these activities, walk toward their massive food court and fill yourself up with delicious snacks and meal offerings to revive yourself. Pitstop remains open between 11 am and 12 am on all days.
Ram ki Bandi
A small roadside eatery that swarms with people waiting for their order to be served, Ram ki Bandi quite depicts Hyderabadis' love for food. Ask any local about the best place to eat dosa or idli in the city, Ram ki Bandi will most probably be their answer. Such is the popularity of this roadside food stall with food connoisseurs. Situated near Nampally, Ram ki Bandi dishes out delicious varieties of dosas, which can give popular restaurants a run for their money. This food stall is open from 5 am to 1 pm, but you must make it here early in the morning because the crowd only gets longer with the passing hours.
Also Read: An Essential Hyderabad Travel Guide for First-Timers
Baobab tree at Hyderabad Golf Course
Hyderabad might have earned the reputation as one of the world's tree cities, but the one tree that has always stayed in the spotlight is the 800-year-old Baobab Tree in Naya Qila. Native to Madagascar, it is said that the wandering fakirs planted a Baobab sapling in the city hundreds of years ago. Standing tall and strong to this day, this massive tree is located within the Hyderabad Golf Course near Golconda. The locals call it 'Hathiyan ka Jhaad', referring to its elephantine trunk.
Its circumference measures about 25 m and its most interesting feature is its huge hollow that can accommodate up to 40 people. Although visitors are now prohibited from entering the hidden space within the tree, the locals still stop by here for a mere sight of this tree that has existed for ages.
Suggested Read: Fascinating nicknames of Hyderabad and the reasons behind them!
Shilparamam
The moment you enter Shilparamam, you cannot help but stare in awe at the ethnic setting of this art, craft, and cultural village of Hyderabad. Although it sits in the busy area of Madhapur, this place is surprisingly cut off from the surrounding chaos. The 65-acre complex puts on display the art and craft culture of various states of India. The several museums and stalls at Shilparamam exhibit and sell a variety of artifacts; ranging from Kalamkari fabric to Nirmal lacquerware and Kondapalli toys. You can shop for souvenirs at this offbeat place in Hyderabad. Shilparamam also hosts several art and cultural performances and ethnic festivals throughout the year.