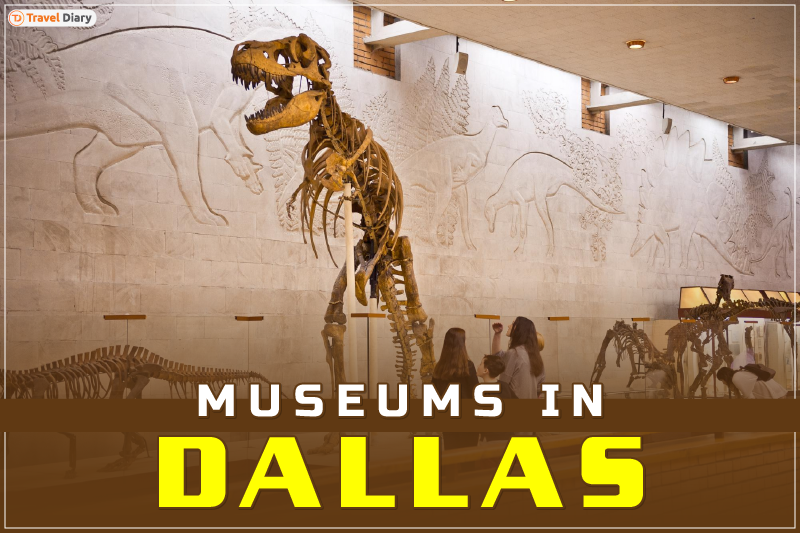 Dallas is a cosmopolitan metropolis in the heart of Texas, where the West meets the modern world. The city's museum culture is as varied as the city itself. These six museums offer a kaleidoscope tour through the rich tapestry of human experience, spanning from science to sculpture and art to history. 
Dallas Museum of Art (DMA)
Located in the bustling Arts District, Dallas Museum of Art is home to a five-thousand-year-old collection. The museum's varied displays, which range from antiquated relics to modern masterpieces, depict the development of human ingenuity. It is also one of the best free museums in Dallas. Explore galleries featuring European masterpieces, explore African and Asian art, and take in the striking brushwork of contemporary American painters. DMA is a journey through the eras of artistic expression, not just a museum.
Also Read: Top Places for Day Trips from Dallas
Perot Museum of Nature and Science
The Perot Museum is a wonderland of discovery for anyone with an interest in science and for people with curious minds. This architectural wonder, which can be found at Victory Park, is evidence of the fusion of innovation and education. It is one of the best museums in Dallas. During your visit, you can take part in interactive displays. You can also be amazed by paleontological discoveries, and get a deep dive into the fields of earth and space sciences. The Perot Museum is a fascinating journey for people of all ages, offering everything from the mystery of diamonds to the excitement of robotics. It is not just an educational institution.
The Sixth Floor Museum at Dealey Plaza
This famous museum is situated at the exact location where American history took a sad turn, and history whispers down its hallways. Visitors can immerse themselves in the events leading up to President John F. Kennedy's assassination at Dealey Plaza's Sixth Floor Museum. Feeling the weight of that dreadful day, you stand in the protected surroundings of the former Texas School Book Depository. The museum pays respect to a significant period in American history by crafting a moving narrative using images, videos, and objects.
Nasher Sculpture Center
Enter the Nasher Sculpture Center, an outdoor haven for creative expression. Nestled in the heart of the Arts District, this museum honors the diversity and beauty of sculpture. Renowned modern and contemporary artists' works are on display in the carefully chosen collection. This is one of the top museums in Dallas downtown. Every sculpture in the outdoor sculpture garden has a distinct narrative that invites reflection and admiration of the form as you walk through it. Nasher is more than simply a museum; it is evidence of the lasting influence of three-dimensional art. Just book a Dallas flight and get ready to discover this unique museum in Dallas on your trip. 
Also Read: Your Ultimate Dallas Airport Terminal Guide
Frontiers of Flight Museum
The Frontiers of Flight Museum offers a fascinating tour through the history of aviation for people who have a passion for the sky. This museum, which is close to Love Field Airport, is home to an amazing collection of airplanes, including both modern marvels and vintage aircraft. Discover the glories of space exploration, discover the stories of the aviation pioneers, and be in awe of the technological advancements that have molded our ability to soar above the skies. The museum is a great place for families and aviation lovers to visit because of its interactive exhibits.
Dallas Holocaust and Human Rights Museum
A somber yet vital establishment in the center of Dallas serves as a lighthouse for instruction and remembering. Nestled in the West End Historic District, the Dallas Holocaust and Human Rights Museum is committed to honoring the memory of the Holocaust and igniting a movement against discrimination. Through compelling displays, firsthand accounts from survivors, and educational initiatives, the museum illuminates one of humankind's darkest periods. It becomes more than just a museum; rather, it is a force for good, encouraging visitors to face injustice and resist prejudice. 
You can explore these six museums in Dallas and discover the many strands that make up its rich cultural fabric. Every museum adds to the vivid identity of the city, from the echoes of historical significance to the strokes of artistic talent. Dallas extends an invitation for you to go on a cultural tour, with each exhibit serving as a doorway to a new aspect of the human experience. Book Indian Eagle cheap flight and get ready to find inspiration as you journey into the fascinating worlds of Dallas's finest museums. 
Disclaimer:
Indian Eagle claims no credit for the images featured on its blog site. All the visual content is copyrighted to its respective owners only. We mention the source name of the image whenever possible and found. However, if we miss acknowledging the owner's source, please contact us. In case, owners don't want us to use their images, we will remove them promptly. We believe in providing proper attribution to the original author, artist, and photographer.