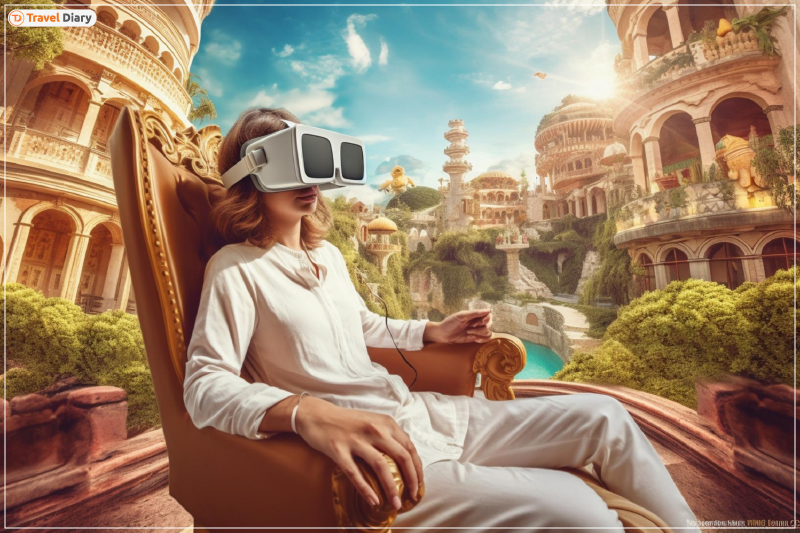 The travel industry is witnessing a lot of changes with the advent of latest technologies. With travel apps, AI, AR, and virtual reality; tourism is likely to witness a drastic change in the coming decade. And Metaverse is probably going to play a major role in revolutionizing this sector. Would it not be amazing to experience the vibe of a place before actually visiting it?
What Exactly is Metaverse?
Metaverse is a fictional world. It is basically a network of a 3D virtual universe with a key focus on social connection. Here you can interact with people, work, play, shop, travel, and eat together. According to many, it is a speculation that the web as the only universal virtual world, which is promoted by the use of augmented reality and virtual headsets.
Benefits of Metaverse 
There has been an increase in telecommuting recently and it can be observed that now more people are relying on digital modes and virtual spaces of communication such as web conferencing and video to communicate, interact, and socialize online. 
In order to take this digital experience a step further, metaverse can bring an array of real-world capabilities to all users in a 3D immersive environment. Here are some of the benefits of metaverse. 
Offers incredible experiences with virtual tours.

Helpful in remote working environments.

Effective for healthcare providers.

Makes online gaming more exciting. 
Although it is likely to impact nearly all sectors, you will learn its impact on the tourism industry in this article.
When was the Term 'Metaverse' First Used?
Neal Stephenson used the word 'metaverse' for the first time in his novel 'Snow Crash' in the year 1992. Later, the CEO of Facebook, used the term for their rebranding announcement. Various other tech companies such as Google, Microsoft, and Nvidia were quick to come up with similar concepts and 'metaverse' gained even more popularity. 
Metaverse Vs. Virtual Reality
While metaverse isn't well-defined, virtual reality is well-known by a lot of people.

Metaverse is planned to be accessible in virtual reality.

Metaverse in no way will be limited to VR technology. 

As it is comparatively new and still in the process of development, metaverse has the potential to grow bigger than VR. 
Impact of Metaverse on the Tourism Industry
Isn't it amazing that we can navigate the roads of a new place using satellite navigation on our smartphones? Today, we are even able to become part of the holiday experiences of our friends and family by watching stories and posts on Instagram or Snapchat. In a way, we are already living in the future. As technology is revolutionizing different industries, it will definitely impact the travel sector as well. 
In the near future, metaverse has the full potential of creating some of the most immersive experiences in tourism. While shopping, most people try things before actually buying them. Metaverse can completely transform the travel industry by providing tourists with virtual experiences before finalizing their trips. This will take the concept of 'try before you buy' to the next level. 
Though it is extremely popular in the gaming landscape, anything major is yet to happen in the tourism industry. But traveling in metaverse could be a reality very soon. 
How will Metaverse Impact the Indian Travel Industry?
India is popular for its culture, ancient heritage sites, growing infrastructure and various IT hubs. If metaverse enters the tourism industry, the country could benefit by providing unique experiences in the Indian metaverse land. To attract more tourists, creating virtual experiences for popular sites such as Taj Mahal, Red Fort, Golden Temple etc. can be a good idea. Top Indian cities like Mumbai, Goa, Jaipur and a lot more can be a part too. People can also know what kind of services a hotel is going to provide them and experience the vibes of that place before booking their stay. Tourists can get a 3D glimpse of what they can expect in this incredible country before booking their flights. Air tickets can be expensive and even if you avail a cheap one, it is best to explore the place virtually to get your money's worth. 
According to the Q1 2021 consumer survey by GlobalData, nearly 43% of the global Gen Z respondents said that they are 'somewhat' or even 'always' influenced by how digitally-advanced a product or service is, which means that these people are very likely to have a positive reaction to metaverse in this digital age. This is a little surprising as they are a group, who mostly don't have any memory of the time before the advent of smartphones. The mainstream use of metaverse depends on this cohort and so thus its adoption in the tourism sector. 
With reliable and efficient travel partners, Indian Eagle offers cheap flight tickets from US to various Indian cities. So, if you are planning to travel soon, book your tickets with us!

Disclaimer:
Indian Eagle claims no credit for the images featured on its blog site. All the visual content is copyrighted to its respective owners only. We mention the source name of the image whenever possible and found. However, if we miss acknowledging the owner's source, please contact us. In case, owners don't want us to use their images, we will remove them promptly. We believe in providing proper attribution to the original author, artist, and photographer.