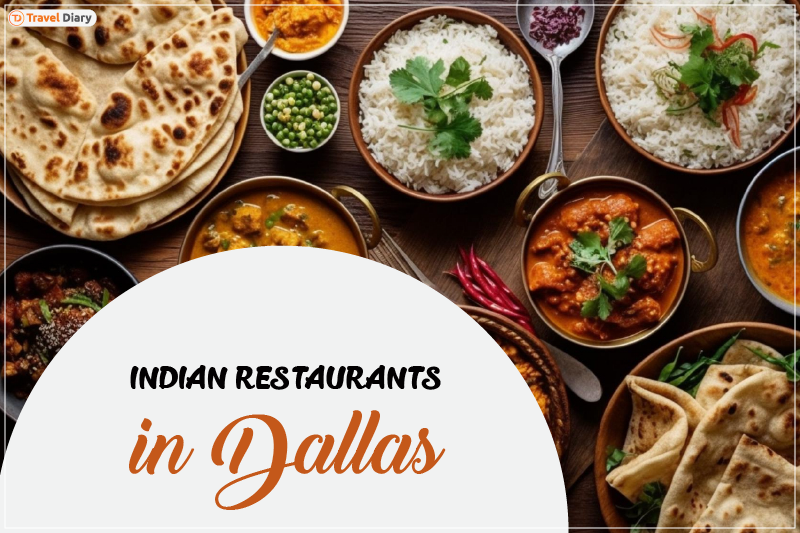 Dallas is an incredible metropolis in Texas' northern region. When visiting this country, you will find many exciting activities to do, such as shopping, visiting tourist attractions, and enjoying local cuisine. Trying new restaurants is also a fun thing to do in Dallas.
Finding the best Indian restaurants in Dallas, Texas to eat at can be difficult because there are so many options with countless reviews. Don't be concerned! Here is a list of restaurants in Dallas that serve the tastiest and most flavorful Indian food. If you're looking for a change from your regular meals, these Indian restaurants are ideal. You will enjoy some of the most exotic dishes with vibrant flavors and a relaxing atmosphere. Read on now to find out where you should go!
List of Best Indian Restaurants in Dallas
Kalachandji's
Roti Grill
Vindu Indian Cuisine
A1 Indian Grill
Mumbai Grill
 Bawarchi Biryanis
Kalachandji's
This is a vegetarian Indian restaurant in Dallas that has been open for 40 years. Because Kalachandji serves vegetarian cuisine, no meat-based ingredients are used in the preparation of their dishes. The menu items are diverse, so there is something for everyone. Each one includes a detailed description of the ingredients. You and your loved ones will enjoy your dining experience here because the food is served as a buffet. You can sit at the table overlooking the breezy and pleasant courtyard while savoring the food. 
Roti Grill
Roti Grill is a nice dining option in the Oak Lawn neighborhood for an intimate dinner with family or friends. This is one of the best Indian restaurants in Dallas, serving up fresh and healthy fare with a hearty flavor for all. Every classic Indian menu item is available, including samosas, wraps, curry, and beverages such as tea and lassi. This restaurant is ideal for large groups because it has a diverse menu. Furthermore, you can select from vegetable-based or meat-based foods with a choice of six levels of spiciness.
Vindu Indian Cuisine
Vindu Indian Cuisine serves food with a variety of spice levels ranging from mild to very spicy. It's one of the most well-known features of this location. Furthermore, this family-owned restaurant prepares the most authentic and hearty Indian dishes for a meal. They always make sure that their Samosas are crispy when they are served to you. This Indian restaurant in Dallas, Tx also serves a variety of side dishes and dipping sauces.
A1 Indian Grill
Despite the small size and atmosphere, this restaurant serves some of the best Indian signature dishes in Dallas. Many Dallas residents enjoy A1 Indian Grill because it serves hot and fresh food in a timely manner. Most people come here for some hearty and flavorful Indian takeout. When visiting this location, you should try some popular Indian dishes such as lamb Biryani and garlic naan. In terms of flavors, it is almost identical to the authentic taste you would get in India.
Mumbai Grill
Mumbai Grill, a popular Indian restaurant in Dallas, is known for its lunch buffet and a-la-carte dinner menu. If you enjoy Indian food and curry, you must visit this restaurant. If you get a chance to try the lunch buffet here, you'll be pleased with the selection of dishes, which includes everything from curries and biryani to desserts. The food here is delicious, and the seasoning is excellent. When visiting Mumbai Grill, you can sample both vegetarian and non-vegetarian cuisine.
 Bawarchi Biryanis
The first on the list is Bawarchi Biryanis, a simple-looking yet sophisticated restaurant that serves authentic Indian cuisine. What makes the place and its food unique is that the chefs always strive to incorporate their traditions into the food in the most delicious way possible. Soups, appetizers, and Tandoori dishes are among the dishes on the menu. There is a weekend menu with different specialties available each day. You can enjoy Bawarchi Biryanis' food in a variety of ways, including takeout, delivery, dine-in, and catering.
Also Read: Things to do at DFW Airport
It's a little difficult for you to choose your first Indian food destination right now. However, making a list and visiting as many of the restaurants on the list above will be a fun food adventure for you. It will be a fantastic experience indulging in these delectable best Indian food in Dallas.
Are you planning a trip to Dallas for your next vacation? Book Indian eagle cheap flights for a low-cost vacation. Visit these restaurants to enjoy your meal!
Disclaimer: 
Indian Eagle claims no credit for the images featured on its blog site. All the visual content is copyrighted to its respective owners only. We mention the source name of the image whenever possible and found. However, if we miss acknowledging the owner's source, please contact us. In case, owners don't want us to use their images, we will remove them promptly. We believe in providing proper attribution to the original author, artist, and photographer.