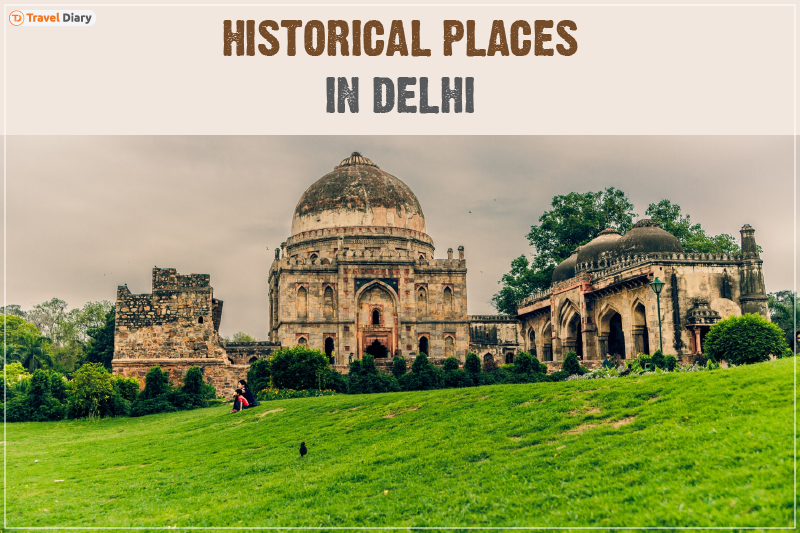 Delhi, the capital of India, is an ancient city that has been known by different names during different phases of its layered history. This place has served as the seat of government for various kingdoms throughout history and as per Indian mythology – right from the Kuru Dynasty to many Islamic Rulers to the British Empire and now, democratic India. Each kingdom has left a significant mark on Delhi, whether in terms of building stunning monuments that have emerged as landmarks over time or influencing the culture of this place. A visit to the following historical places in Delhi is, thus, essential to understand what defines this city, at large.
Red Fort
An important historical monument in Delhi, Red Fort or Lal Qila is a stately fortification well-recognized for its stunning red sandstone facade. Shah Jahan had this fort built in the mid-17th century when he made Delhi the capital of the Mughal Empire. The imposing fort, its beautiful gardens, inner palaces, halls, and museums display architectural elements from Islamic, Persian, Timurid, and Hindu styles. In fact, the entire Lal Quila complex is considered to "represent the zenith of Mughal creativity under Shah Jahan." Its architecture inspired several other forts and gardens that the Mughals constructed later, in and around Delhi. When you are here, you shouldn't miss out on the spectacular light and sound show conducted every evening to regale visitors with the historical significance of this grand Indian fort.
Hauz Khas
A modern village built on the ruins of a medieval town called Siri, Hauz Khas is one of the most interesting historical places in Delhi. This charming neighborhood derives its name from the 13th-century reservoir around which it is developed. Between all the hip bars, cafes, chic boutiques, trendy restaurants, and art galleries that establish this place as an urban hangout, there lie the remnants of the historical village that grab the attention of history buffs. Several medieval monuments such as Hauz Khas Fort, Bagh-I-Alam Ka Gumbad, Tefe Wala Gumbad, Kali Gumti, Tomb of Feroz Shah Tughlaq, Nili Masjid etc. are worth exploring.
Humayun's Tomb
Situated on the banks of the Yamuna River, Humayun's Tomb is the first tomb to be built in a garden-style in India. The massive tomb sits in the center of a beautiful Charbagh-style garden featuring water channels and walkways, just like the Gardens of Paradise as described in the Quran. The construction of this tomb was commissioned by Humayun's wife after nearly nine years of his death. Several smaller tombs belonging to Mughal kings and queens surround the main tomb. The Persian influences on this Mughal monument are clear, and the grand architectural features of Humayun's Tomb landed it a place on the UNESCO World Heritage Sites list.
India Gate
India Gate, one of the most important historical places to visit in New Delhi, is situated right in the heart of the city, at a distance of around 15 km from Delhi airport. This 42-meter-tall archway is a war memorial dedicated to tens of thousands of soldiers who laid their lives for the nation during the First World War and the Afghan War. A wave of patriotic pride sweeps over you as you run a glance through the names of the brave Indian soldiers inscribed on the walls. The beautiful gardens, water fountains, and street food stalls that came up around India Gate made it a popular hangout spot in Delhi.
Agrasen ki Baoli
Tucked amidst the towering buildings in central Delhi, Agrasen ki Baoli is an age-old stepwell, whose history can be traced back to the times of Mahabharata.  This stepwell is 60 ft deep and 15 m wide, with around 108 steps on three levels that eventually lead to the water storage area. One cannot help but wonder at the ornate arches and ancient stone steps handcrafted to perfection. Enveloped in a sense of calm, the tranquil ambiance of this place and the mysterious charm of this historic structure together with its fine architectural details have always sparked the imagination of several artists, poets, and architects for ages.
History buffs looking forward to exploring more historical places in Delhi can visit Qutub Minar, Lodi Tomb, Jahaz Mahal, Bhuli Bhatiyari Ka Mahal, Chunnamal Haveli, Jantar Mantar, Jama Masjid, Purana Qila, Mirza Ghalib Ki Haveli, Rajon Ki Baoli, Safdarjung's Tomb, and Tughlaqabad Fort. Why not dedicate your next trip to a historical tour of Delhi? Grab our best flight deals to Delhi and visit this historical city soon.
Disclaimer:
Indian Eagle claims no credit for the images featured on its blog site. All the visual content is copyrighted to its respective owners only. We mention the source name of the image whenever possible and found. However, if we miss acknowledging the owner's source, please contact us. In case, owners don't want us to use their images, we will remove them promptly. We believe in providing proper attribution to the original author, artist, and photographer.