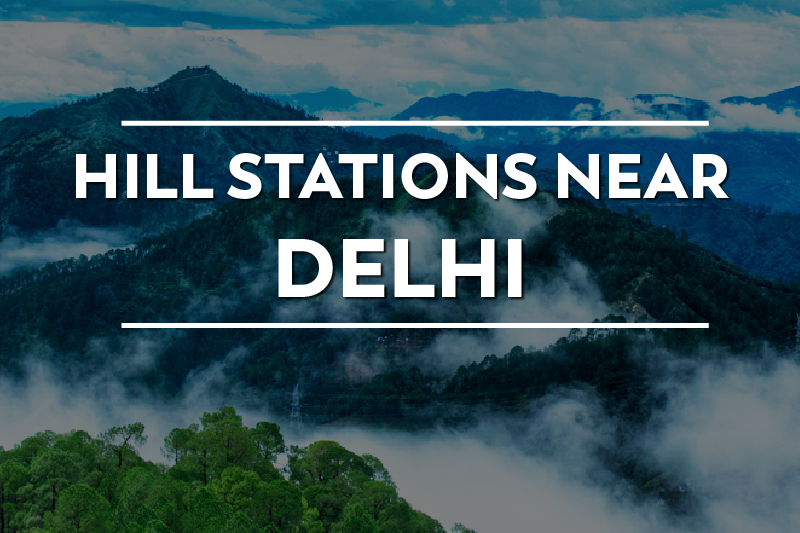 Summer is an enticing season. We notice a change in the weather, take vacations, and plan trips to see friends and family. There are numerous locations worth visiting. If you live in or near Delhi or are planning a trip there, you should be aware of some of the best hill stations near Delhi in the summer. In terms of tourism, these locations offer something unique. People come here to explore the natural sites, some of which are also historically significant. These locations make your summer trip more exciting and memorable.
Visiting these hill stations near Delhi within 300 km and more can offer you a rejuvenating break. Here are a few of the most important ones to consider:
Top 6 Hill Stations Near Delhi
| | | |
| --- | --- | --- |
| Hill Station | Best Time to Visit | Distance |
| Mussoorie | April – June, October – November | 289 km |
| Naukuchiatal | June, September – November | 322 km |
| Dalhousie | October – June | 561 km |
| Nainital | June, December – January | 296 km |
| Shimla | October – February | 342 km |
| Lansdowne | March – October | 257 km |
Mussoorie
The "Queen of Hills," Mussoorie, is one of the most beautiful hill stations to visit near Delhi. It is located at an elevation of over 6500 feet above sea level and provides relief from the summer heat. Cool breezes, clear blue skies, and sunny days are ideal for a relaxing vacation. It is a small town with a small population, making it suitable for a relaxing family vacation. There are numerous adventure activities for children here, such as zip-lining, paragliding, and white-water rafting. There are cafes, bakeries, and shops for those who prefer to relax with their families.
Naukuchiatal
Naukuchiatal is a lovely hill station for a family vacation. It is a beautiful hill station near Delhi that has a charming village surrounded by pine trees. This natural waterbody is 4000 feet above sea level and has nine corners, hence the name. Naukuchiatal is a little-known hill station near Delhi where you can enjoy the unspoiled natural beauty. So go ahead and discover the hidden beauty of the Himalayan foothills.
Also Read: Best places to visit near Delhi in monsoon
Dalhousie
Dalhousie is a charming hill station near Delhi, a Himalayan treasure. This well-known hill station is known for its peaceful atmosphere and has long been the home of the Mewar royal family. It is famous for its magnificent monuments set in breathtaking scenery. It is located at a high elevation and is spread across five hills near the Dhauladhar mountain range. Take your loved ones on a tour of this fascinating town, which features colonial-era structures from the British Raj's reign in the 1800s.
Nainital
Nainital is a well-known tourist destination located at an elevation of 6830 feet. This location is well-known for its picturesque views and tranquil atmosphere. The town is surrounded by mountains, valleys, and ridges. The area is home to a variety of wildlife, including golden langurs, Himalayan black snakes, Himalayan brown bears, wild boars, and snow leopards. The town organizes monsoon safaris to see the animals in their natural habitat on a regular basis.
Shimla
Shimla, located near Delhi, is a popular hill station at 7000 feet above sea level. This location is open all year, but the best time to visit is in the spring. It is an off-beat hill station near Delhi and served as a summer retreat for the British government during their reign. It is a popular tourist destination due to its numerous attractions and scenic beauty. If you want to go to Shimla, you should start in Delhi because it will be easier for you to get there.
Lansdowne
Lansdowne, formerly known as Laksar, is a hill station in Uttarakhand near Delhi. This location is open all year, but the best times to visit are in the spring and summer. Lansdowne is one of the most spectacular places to visit in Uttarakhand due to its natural beauty, pleasant weather, and grassy slopes. It is situated at an elevation of 1700 meters above sea level and offers a tranquil setting in which to spend your vacation away from the hustle and bustle of daily life. Lansdowne is a rural area with plenty of opportunities to explore and discover new natural areas.
These are some of the top hill stations near Delhi that will provide you with a natural experience as well as a relaxing environment to enjoy with family and friends. So, are you planning a summer trip to these beautiful places near Delhi from Atlanta? Then book low-cost Atlanta to New Delhi flights with Indian Eagle today and get ready for an unforgettable trip!