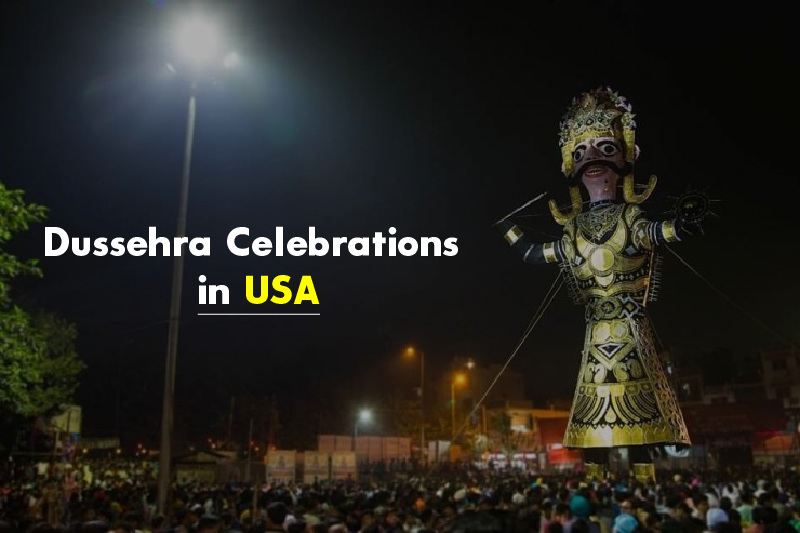 Dussehra, Diwali, Holi and other Indian festivals are no longer unknown to the world. In fact, most Indian traditions and celebrations are being recognized globally, thanks to the large Indian diaspora living in all corners of the world, celebrating their vibrant culture no matter how far they stay from their homeland. 
Dussehra, one of the biggest events in the Indian festival calendar, is celebrated with much pomp and fervor by Hindus all across the world. The huge Indian diaspora in the United States (consisting of more than 4 million) gear up for Dussehra celebrations in USA with the same enthusiasm as the Indians celebrating this festival back home.     
How is Dussehra Celebrated in USA? 
It is not uncommon to see popular Dussehra traditions such as 9-day Durga Puja at pandals, garba dances, Ravana/Mahishasura effigy burning, etc. being followed on a grand scale in different US cities.
Within India itself, Dussehra is celebrated in different ways in different parts of the country and for different reasons. While in the north, the festival celebrates the triumph of Lord Rama over Ravana, in the southern part of India, Dussehra commemorates the event of Goddess Durga slaying the demon Mahishasura. The burning of the massive effigies of Ravana/Mahishasura, which signifies the ultimate victory of good over evil, is a common sighting throughout India, and this ritual is also followed in some parts of the USA on the day of Vijaya Dashami.  
Dandiya and Garba dances, which are an indispensable part of Gujarat's Navratri celebrations, take place in many cities across the USA. Several Indians living in the US gather for the traditional dance programs dressed up in traditional attire and dancing to the traditional folk music to their heart's content, thus spreading the festive cheer on a foreign land.   
Various Indian American committees and associations such as American Telugu Association, Bengali Association etc. also arrange a variety of cultural and entertainment programs on the occasion of the many Indian festivals, including Dussehra. Committee members and volunteers begin their preparations for the festival much early. At some places, Ram Leela – stage plays based on Ramayana – are also hosted during Navratri.
What are the Best Places to Witness Dussehra Celebrations in USA?
Every neighborhood in the US with a significant size of Indians celebrates the festival just like the way it is celebrated in India. The large number of Indians living in New York, New Jersey, Chicago, San Francisco, Washington, Los Angeles, Philadelphia, Dallas, Boston, and Seattle celebrate Dussehra in an elaborate manner. Of all these places, New Jersey is known to host the most magnificent Dussehra Celebrations in USA. Hindu Swayamsevak Sangh (HSS) and other associations set up huge decorated pandals across New Jersey for Duja Puja during Navratri.
Also read: Indian Restaurants in USA
Places to Witness Durga Puja in New Jersey 2022
If you are a New Jersey resident or are taking Indian Eagle international flights to this city ahead of the festival this year to visit your kith and kin in the US, here are some of the places you can visit during Dussehra and take part in Durga Puja rituals. 
Date: 1-5 October 2022
Location: Ananda Mandir, 269 Cedar Grove Lane, Somerset
Garden State Cultural Association Durga Puja
Date: 8-9 October 2022
Location: Plainfield High School, 950 Park Avenue, Plainfield
Indian Community Center Of Garden State
Date: 24-25 September 2022
Location: Parsippany High school, 309 Baldwin Rd, Parsippany
Bengali Cultural Society NJ
Date: 30 Sept- 2 Oct 2022
Location: Indian Cultural Center, 820 NJ-73, Marlton,
Bharat Sevashram Sangha Durga Puja
Date: 1-5 October 2022
Location: 3490 Route-27 Kendall Park 
History of Dussehra Celebrations in USA
The history of Dussehra celebrations in USA can be traced back to 1999. An Indian American community is credited with organizing the first Navratri celebrations in USA, which received a huge amount of support from Indians living in the US and only grew grander and more popular year after year. It came to be known as the Annual Grand Dussehra Festival. 
Nothing might quite match up to Dussehra in India, but taking part in Dussehra festivities in USA can surely spark the familiar festive spirit in you and make you feel more connected to your homeland.