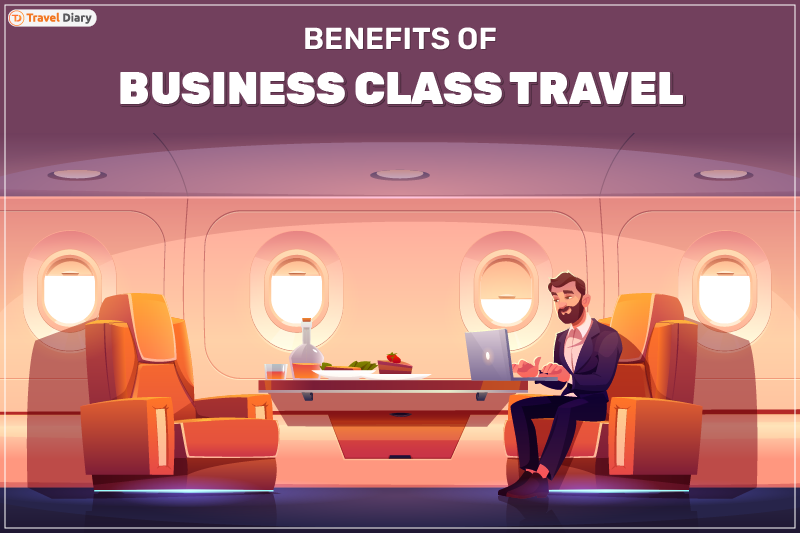 In this fast-paced business world, time is of the essence, and business class travel recognizes this with its efficient and time-saving features. Bid farewell to long security lines and crowded boarding gates; business class grants you the luxury of priority check-in and expedited boarding, ensuring you make the most of every minute of your journey.
Here you will discover some of the top benefits of flying in business class. Whether you're an expert business traveler or a first-time upgrader, the details provided here will leave you well-informed and prepared to set out on your next tour in comfort and style.  So, explore the benefits of business class flying that will take your travel planning to new heights.
Unmatched Comfort and Space
Business class cabins are designed to provide travelers with unparalleled comfort and abundant space. Reclining seats that transform into fully flat beds enable you to rest and sleep in utter relaxation during long-haul flights. Enjoy extra legroom, wider seats, and personal space, allowing you to stretch out and unwind throughout your journey. The comfortable benefits of business class flights allow you to arrive at your destination feeling rejuvenated and ready to tackle your business endeavors.
Premium Amenities and Services
Business class travelers are treated to a host of premium amenities and services that cater to their every need. From priority check-in and boarding to access to exclusive airport lounges, you can enjoy a stress-free and refined travel experience. Relish gourmet meals prepared by world-class chefs, paired with a selection of fine wines and spirits, make your time in the air a delightful culinary journey. Additionally, enjoy top-notch entertainment systems and amenity kits filled with luxury products to keep you entertained and refreshed throughout the flight.
Increased Productivity
Traveling in business class allows you to stay productive even while on the move. With ample space to work and access onboard Wi-Fi, you can catch up on emails, attend virtual meetings, and complete essential tasks during your flight. The peaceful and distraction-free environment of the business class cabin ensures that you can focus on your work, making the most of your travel time and arriving well-prepared for your business engagements.
If you are planning a trip soon, then book Indian Eagle flight deals to enjoy an affordable trip.
Time Efficiency
Time is precious in the business world, and business-class travel can save you valuable hours. You may streamline your travel experience and save waiting times by eliminating large lines at security checks, enjoying quick boarding, and having your luggage handled with priority. This efficiency helps you to make the most of your vacation by spending as little time as possible on real work.
Network Opportunities
Business class cabins often consist of fellow business professionals, providing a unique networking opportunity. You can connect with like-minded individuals, industry leaders, and potential collaborators during your flight, creating valuable business connections that may lead to exciting partnerships and collaborations in the future.
Also Read: Smart tips to Get Business Class Tickets
Stress Reduction
Traveling can be stressful, but business class travel takes the stress out of the equation. With specialized flight attendants paying attention to your needs and ensuring your comfort throughout the flight, you can forget about the logistics and concentrate on your job or relaxation. The peace of mind that comes from knowing you are well taken care of enhances your trip experience.
Exclusive Ground Services
Apart from the luxurious in-flight experience, business class travelers are also treated to exclusive ground services. This includes access to business lounges equipped with various amenities, such as shower facilities, business centers, and complimentary refreshments. These facilities make layovers and connecting flights more enjoyable and productive, ensuring that you stay on top of your game throughout your entire journey.
Travel Insurance and Security
Business class travelers often benefit from additional travel insurance coverage and enhanced security measures, providing peace of mind in case of unexpected events or emergencies during the trip. The further level of protection allows you to focus on your business objectives while knowing that you are well-protected during your journey.
These are some of the advantages of business class travel that will undoubtedly enhance your trip experience. They provide unrivaled elegance and premium amenities, as well as enhanced productivity and networking opportunities. So, the next time you travel for business, consider the wonderful perks that business class travel will offer.
If you are planning to visit USA soon, then book your international flights with Indian Eagle. So that you can enjoy a memorable and budget-friendly trip.