Covering a massive 4,850 acres of land, Detroit Metropolitan Airport is one of the major US international airports. It is simply referred to as DTW or Detroit Metro Airport. For those looking for the Detroit Metro Airport address, the Detroit Metropolitan Airport (DTW) is situated in a suburb of Detroit known as Romulus, 18 miles southwest of downtown Detroit. In addition to being among the biggest airline hubs in the US, it also serves as the second largest hub of Delta Air Lines and is the busiest airport in Michigan. It handled more than 23 million passengers in 2021. 39 states across the US and 30 destinations worldwide are served by flights to and from Detroit Metro Airport.
Detroit Airport Quick Information: 
Airport Code: DTW

Year Established: 1930 

Location: 11050 W G Rogell Dr #602, Detroit, MI 48242

Terminals: 2

Runways: 6
Detroit Metropolitan Airport Terminals:
The Detroit Metropolitan Airport (DTW) has two terminals, which are:
McNamara Terminal 

Evans Terminal (North Terminal)
The McNamara Terminal is also referred to as Detroit Airport Delta Terminal as it is used primarily by Delta Air Lines and its SkyTeam alliance partner airlines. You will find Concourses A, B, and C at the terminal along with more than a hundred gates. The rest of the airlines operate out of the North Terminal. There is only one Concourse at this terminal – Concourse D. Both terminals are connected via shuttles operating between them. The Detroit Airport terminal map will help you have a detailed look at the terminal setup.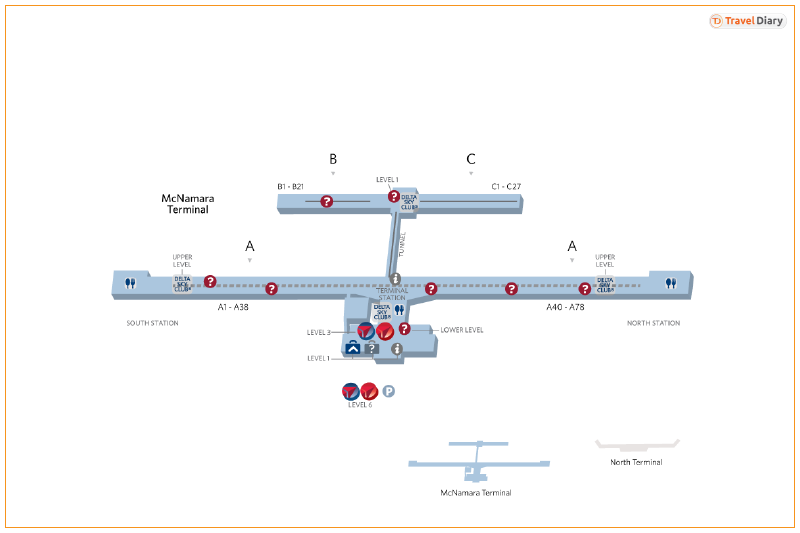 Passenger Services at Detroit Metropolitan Airport:
Detroit Airport Clubs & Lounges
Be assured that there are plenty of airport lounges you can use when booking Detroit to India flights or vice versa. Since Detroit Metropolitan Airport (DTW) is a major hub for Delta Air Lines, you can expect to find a vast number of Delta Sky Club Lounges. All of these lounges are situated at the McNamara Terminal. A couple of Lufthansa Lounges can be found in the North Terminal in addition to a few senators as well as business lounges. For details on who can access the lounges, check the airline's official website.
The best eating options at Detroit Metropolitan Airport (DTW) are found at the McNamara Terminal. Popular restaurants and eateries include Zingerman's Bakehouse, Andlamo, and Plum Market Wine Bar & Cafe among others. The North Terminal features some good options as well such as McDonald's, Earl of Sandwich, and TGI Fridays among others. When it comes to shopping at Detroit Metro Airport, there are a number of stores such as Brooks Brothers, CNBC, Brookstone, and Creative Kidstuff among others offering a variety of gift items and souvenirs.
Car Rentals at Detroit Metro Airport
There is a car rental camp located on the northeast corner of the Detroit Metropolitan Airport (DTW) which is where you will find several car rental companies operating out of. The agencies run their own shuttles to and from the terminals. Car rental agencies you can expect to find here are Alamo, Hertz, Thrifty, National, and Avis among others. It is recommended you book ahead of arrival.
Passengers have a myriad of parking options at the Detroit Metropolitan Airport, which boasts more than 19,000 parking spaces. The McNamara Terminal Parking Structure and the Big Blue Deck are the two parking garages. While the McNamara Terminal Parking offers long-term, short-term, and valet parking, the Big Blue Deck has options for long-term and short-term parking. Additionally, passengers can head to the Green Surface parking lot to park closest to the terminals. You'll find that Detroit Metro Airport parking is actually one of the most convenient ones around. A pedestrian bridge connects the terminals with the parking structure. 
The TSA Lost and Found office is to be contacted should passengers lose something at the Transportation Security Administration. In case an item is misplaced in a ground transportation vehicle, then the Ground Transportation Provider can be contacted directly. If passengers lose something anywhere else in the terminals, they can file a complaint with the WCAA Police. This service is helpful to Detroit Airport departures and Detroit Airport arrivals both.
Detroit Metro Airport Ambassadors
Detroit Metropolitan Airport (DTW) has several dedicated ambassadors dressed in distinct blue vests manning the length and breadth of it. Passengers are provided all types of assistance they could possibly need, be it checking flight status, getting their way around, directions to ground transportation, or help with baggage claim among other things. The Airport Ambassadors are placed at every information desk of the terminals.
Wi-Fi access is offered at both Detroit Metropolitan Airport (DTW) terminals for the convenience of passengers. Travelers can easily get online and stay in touch with loved ones while at the airport. This is a convenient facility for business travelers who need uninterrupted internet access to keep up with their work while on the go.
Foreign Currency Exchange Services
Both terminals of Detroit Metropolitan Airport (DTW) offer Travelex Currency Exchange services to passengers passing through the airport. If you check the Detroit Metropolitan Airport website, you will find their contact information. You can call to find out details of the currency exchange service.
Detroit Metropolitan Airport (DTW) offers special assistance to passengers who require it. They provide wheelchair services apart from assistance to travelers with disabilities, unaccompanied minors, pregnant women, those traveling with infants, and travelers with pets among others. Check the Detroit Metropolitan Airport website for further details on this.
Other services and facilities available for passengers at DTW Airport include: 
Baby-changing facilities

Play areas for kids

ATMs

Pet Relief Areas 

Shoeshine service

Airport Volunteer Station

Reflection rooms for prayer, yoga, and meditation
FAQs
How to transfer between terminals at DTW Airport?
Passengers can take the Westin Shuttle that departs every 10 minutes to transfer between the two terminals at Detroit Metro Airport. 
What are the transportation options from the airport to downtown Detroit?
There are several ways to reach downtown Detroit from the airport, and these include Metro Cars, Metro Cab, and the SMART/FAST bus service. 
Which airlines have lounges at Detroit Metro Airport?
Delta Airlines and Lufthansa offer lounge access to their passengers at Detroit Airport. 
Are there Electric Vehicle (EV) parking stations at the DTW Airport?
Yes, EV parking is available at the McNamara and Big Blue Deck parking facilities, at no extra cost.