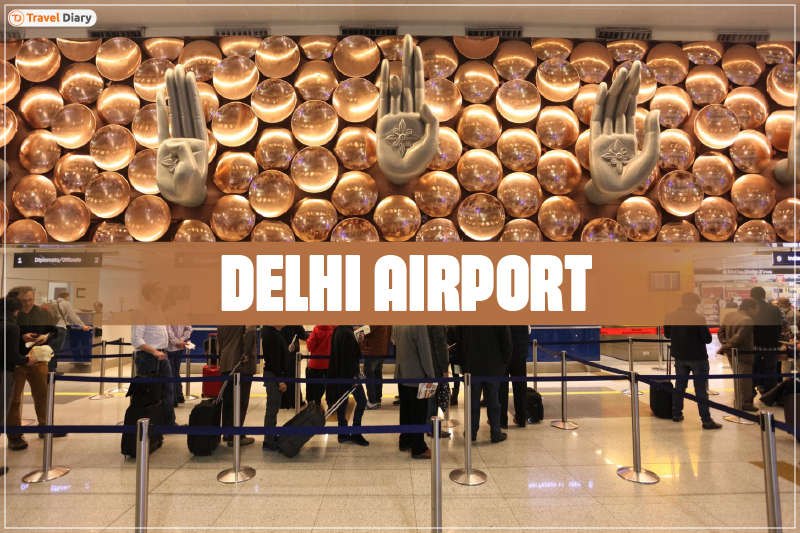 Indira Gandhi International airport is one of the busiest airports in the world and the primary airport serving the needs of flyers to and from the capital of India. It is spread over an area of almost 5,106 acres and is located in the locality of Palam in the city. 
Delhi airport handled nearly 22 million passengers in the financial year 2021. Though the aviation sector has seen a massive growth in India in the past few years, a drop of 66% in passenger traffic was seen in 2021. This was largely due to the travel restrictions in the country due to the COVID-19 pandemic. 
What's New:
The New Delhi Airport will get a whole new look and a fourth runway after the major expansion project is completed. The renovation work was undertaken by GMR. The authorities also plan to increase the facilities in the Terminal 3 (T3) and make a unique "dual elevated cross taxiway" that will connect the northern and southern airfields. This might eventually increase the passenger handling capacity. 
It is said that in the future, construction work for a Terminal 4 and Air Train might also begin. 
Also Read: Delhi Airport: The First Indian Airport to Run on Renewable Power
Terminal 1:
The Indira Gandhi International Airport has three terminals, T1, T2, and T3. Terminal 1 was under renovation and its expansion was completed earlier this year. It now covers an area of 8,000 sq. m. According to the authorities, it now has four new baggage reclaim carousels that will ease things for passengers. T1 handled 20 million passengers annually but after the expansion it will now be able to handle 40 million passengers, almost doubling its capacity. 
There is massive space between baggage belts in the new terminal so it could ease the movement. There is also a state-of-the-art meet and greet gallery and various other facilities that will be helpful to the passengers and will provide them with a world-class flying experience. 
We might see a future-ready Delhi airport in the coming years that will not only handle millions of people annually but will also ease their travel with state-of-the-art facilities. 
You can book flights from USA to India through Indian Eagle and get the cheapest deals. 
If you are in search of San Francisco to New Delhi flights, book your itinerary through Indian Eagle and get your tickets at the most affordable rates.
Delhi Airport Awarded as 'Best in India and South Asia' for the 4th Consecutive Time
Improving its rank from 2021's 45th to 37th this year, the Indira Gandhi International Airport is the only airport in the country to feature in the world's top 50 airports list. It was also declared the cleanest airport in India and South Asia. These awards were judged by Skytrax World Airport Awards.
Delhi Airport arrivals and Delhi Airport departures have seen a sharp increase post the pandemic and air traffic is back to being normal now. The airport is believed to have set a benchmark in offering the best airport experience to the flyers.
FAQs
Can I Access the Delhi Airport Lounge?
Yes, you can have access to the Delhi Airport Lounge through your credit card if the bank has partnered with it. Apart from this, the lounges at the Indira Gandhi International Airport are also accessible at a considerably reduced cost. So, if you have a connecting, canceled or delayed flight; you can check-in to relax or enjoy a warm meal.
Where is the metro station located in Delhi airport?
The metro station is located on the Delhi Airport Express Line. Inaugurated on 23rd February 2011, this is linked to terminals 2 and 3 of the Indira Gandhi International Airport.
How far is the Taj Mahal located from New Delhi Airport?
Taj Mahal is located nearly 230 km from the New Delhi airport and it takes around 2 hours 30 minutes to travel via road.
How to travel from Delhi Airport to Agra?
You can rent a car, hire a cab, or travel in a bus from the Delhi Airport to reach Agra. You can also opt for a train ride as you will get numerous options. Although there are no direct flights between Agra and Delhi, you can try getting on a connecting flight to Agra from various Indian cities.
How to avail wheelchair facility at Delhi Airport?
In case you require special assistance such as a wheelchair facility at the Delhi Airport, you can ask for airport assistance while booking your flight so you will have it ready when you arrive.
Disclaimer: 
Indian Eagle claims no credit for the images featured on its blog site. All the visual content is copyrighted to its respective owners only. We mention the source name of the image whenever possible and found. However, if we miss acknowledging the owner's source, please contact us. In case, owners don't want us to use their images, we will remove them promptly. We believe in providing proper attribution to the original author, artist, and photographer.