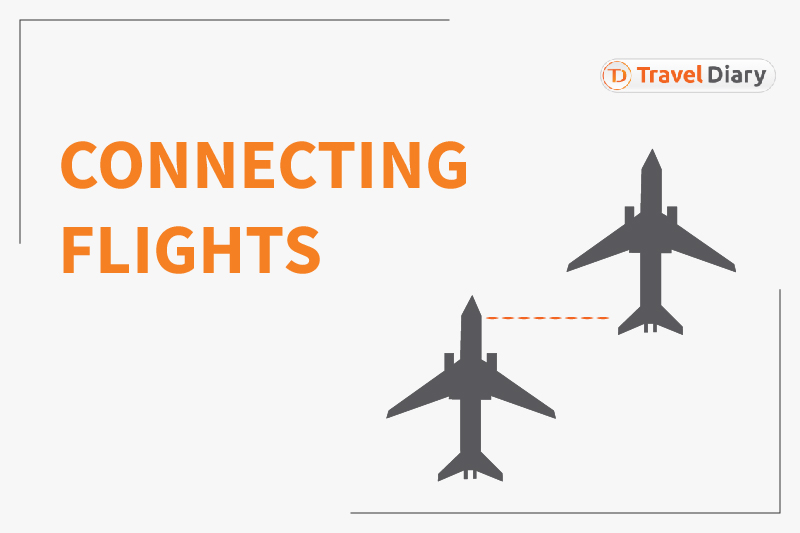 Connecting flights are most often a necessity; at other times, simply a monetary benefit via a good deal. Either way; you can make them work to your advantage.
What exactly is a connecting flight?
A connecting flight means passengers need to disembark from their initial aircraft and board another one to reach the next or the last leg of the journey. Usually, you will have two different flights to board.
How do connecting flights work?                                 
If your connecting flights are booked under a single ticket, you don't have to worry about baggage. The airline/s will handle it. All you have to do is disembark from one and follow the instructions for the next flight in the ticket. Interline agreements between airlines ensure that passengers do not need to worry about baggage check-ins other than for the initial time. At times, you may need to check-in again for your next flight; with baggage and all. This often happens if you book via low-cost airlines. You can book tickets on full-service airlines, which will be more comfortable in some aspects. For example, choose Delta connecting flights or American Airlines connecting flights (if available for your destination) for more convenience.
When looking for cheap international flight tickets, you may want to find good deals. One tip is to book connecting flights. But how to get the best deals for it? There are two important tips you can utilize.
1. Book directly via airlines' websites.
Several airlines have agreements with each other whereby these offer connections between flights for specific routes. Airlines also operate on routes where two or more destinations are linked via their own flights. When booking flights by yourself, you will need to spend considerable time looking for the best deals or the best integrations between destinations and airlines. You can look for flights via search tools on the websites, which can be time-consuming and tedious. So, consider an easier way to book connecting flights that is mentioned below.
2.Book via reputed ticket-booking websites.
A really great way to book connecting flights is via a ticket-booking company in your area. Choose a reputed and reliable company so that you do not face any issues with bookings or refunds. Such companies will also easily resolve your queries about flights and other problems you may encounter during your journey.
Ticket-booking websites are privy to great deals offered by airlines. They can conduct their own research and find you the best price for tickets and that too in less amount of time. If you need to book connecting flights with different airlines, it is best to leave this task to a company equipped to handling it with ease. If you want the best international flight deals then booking via such companies may work in your favor. International flight search, especially for connecting flights, can be stressful and you may not even find the best deal.
Also Read: 5 Tips to Book Cheap Flights
FAQs
Are connecting flights actually cheaper than direct flights?
Yes, in most cases this is true. Passengers are willing to pay more for direct flights as it saves time. There is no layover and they can reach their destination without the inconvenience of disembarking and boarding other flights. Passengers travelling with kids may find layover rather a bothersome thing. So, there are a host of reasons why people choose direct flights. Due to more demand, their tickets cost more than connecting flights. People choose connecting flights either to save money on flight tickets or because they do not have direct-flight options for their destinations.
But there are some points to keep in mind when booking connecting flights.
Account for the cost of food between layovers. If the connecting flights are between two different airports, you may need to pay for your own transportation. This will increase your expenses, layover time, and inconvenience also.
How much time is ideal between two connecting flights?
It is always better to keep sufficient time between two connecting flights especially if you are travelling with children or the elderly. If you require any special assistance at airports, keep that into account too while booking connecting flights.
In order to calculate the time between connecting flights properly, also consider factors such as whether you have booked with the same or different airlines or whether you will need to board flights from different airports. If you are traveling in bad weather conditions, ensure you have ample time for boarding connecting flights.
Also, if your layover is in a different country; consider time you will need for going through immigration and customs. There are times you may choose a connecting flight, let's say, from west coast to east coast then fly to an Asian or Gulf destination. In that case; you will not need to go through customs for the connecting flight. But if your connecting flight is from another country, definitely consider time for immigration and customs. Many US airlines offer connecting flights via Europe or the UAE especially for India or other destinations in the east.
You can always choose Indian Eagle for booking connecting flights as well direct ones from several US destinations to India. The company is a reliable resource for international flight bookings with an excellent 24/7 customer care support.