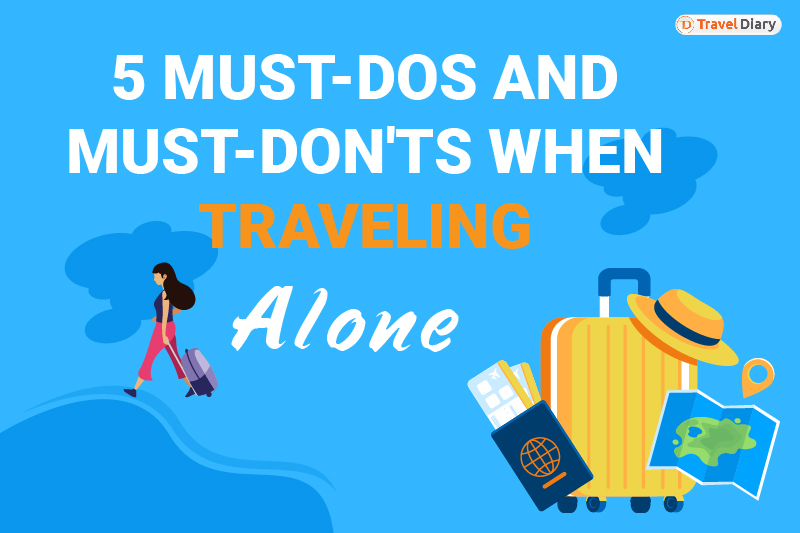 It can be challenging if you've never made a trip alone before. When traveling, there can be a lot to figure out, and without another person to share the load, it can feel like all the pressure is on you. More visibly, the idea of traveling solo, trying to make new friends, and exploring new places on your own can be lonely and overwhelming at first.
Being solely responsible for yourself and your trip can provide confidence-boosting experiences, lessons in trusting yourself and your interests, and chances to demonstrate your true capabilities. There are also alternatives that will not leave you exhausted. Continue reading to learn how to travel solo and plan a memorable trip for yourself:
List of Solo travel tips:
DO's
Explore the country you are visiting
Start with small plans
Be using apps
Keenly aware of your surroundings
Get travel insurance
DONT's
Be passive while making decisions
Pay attention to skeptics
Carry cash handfuls
Inform strangers you are alone
Stuck in your phone
DO's
Explore the country you are visiting
Know about the country's customs and cultural norms, common scams to avoid, the political climate, public holidays to be aware of, and what to wear to religious sites as a sign of respect. Book low-cost international flight tickets and arrive prepared in any city you visit. There will be some cultural shock, but you will have prepared yourself as best you can and will be ready for whatever happens.
Start with small plans
You don't have to wait until you have saved up enough money or have time off from work if you can't afford a big international trip or don't have the time on your calendar. Even a weekend trip to towns over or out of state is a good place to start. You could be saving money for a larger trip while doing so. It will start with a road trip, then a flight, and finally solo travel out of the country.
Be using apps
When traveling abroad, one of the best ways is to heavily rely on translation apps. There is a fine line between simply wandering around and exploring and becoming completely lost, which can quickly become a safety concern. Drop your location pin to friends and family frequently so they know where you are. Also, keep your phone charged at all times so that you can use these apps.
Keenly aware of your surroundings
Examine your surroundings and who is around you. Both the immediate and distant surroundings are important. Keep an eye out for people or cars following you. When traveling solo, you will have to rely heavily on strangers, but if you get a bad vibe from anyone, trust your instincts and move on.
Get travel insurance
Many people do not buy travel insurance, and just like car insurance, you may not need it, but when you do, you will be glad you did.
Also Read: Traveling Alone? Check Out These Things to Do on a Solo Trip
DONT's
Be passive while making decisions
While solo traveling, avoid putting yourself in dangerous situations, such as being too inebriated to see what's going on around you. You don't have anyone else making decisions for you, so you need to stay alert at all times and be able to use your street smarts while on the road.
Pay attention to skeptics
Someone will always tell you that what you want to do is impossible, but believe in yourself and listen to sound advice from people who have traveled to where you want to go.
Carry cash handfuls
This is one of the important things to keep in mind while traveling solo, carry only the needed cash with you. The rest should be kept in the room/hotel where you stay. Also, in case you are pickpocketed, keep your money in different parts of your bag or pockets.
Inform strangers you are alone
You want to be as nice as possible, but the reality is that while traveling solo anywhere, there may be some bad people who want to take advantage of that. If you are asked if you are alone, say you are meeting friends rather than admitting you are alone.
Stuck in your phone
While you'll want to take photos and may need to use apps like maps on your phone during the trip, avoid pulling it out on the street or walking around with your head down. Maintain vigilance.
Nowadays, solo travel is famous because there is no one to answer to but yourself. Enjoy the scenery. Every interaction with a stranger teaches you something. Remember every location that reminds you how far you are from home. Are you considering a solo trip to India from United States? Book Indian Eagle's low-cost USA to India flights today!
Have fun on your solo trip, stay safe, and have a great time.
Disclaimer: 
Indian Eagle claims no credit for the images featured on its blog site. All the visual content is copyrighted to its respective owners only. We mention the source name of the image whenever possible and found. However, if we miss acknowledging the owner's source, please contact us. In case, owners don't want us to use their images, we will remove them promptly. We believe in providing proper attribution to the original author, artist, and photographer.