Oftentimes during your long-haul flight journey from the USA to India, you feel hunger pangs (even after having your in-flight meals) as the arrival time approaches. Yes, most airlines do serve a light meal some 2 hours before landing, but hunger patterns are different for everyone and of course, they are strange, aren't they? Sometimes, it also happens that your stomach seems to growl harder when your mind is conscious that you need to take a connecting flight to your final destination, which means you need to wait a couple of hours more to sink your teeth into food.
Well, whatever is the reason, whether you are simply hungry or feel the urge to sample the local dishes before proceeding home/hotel or decide to eat something to keep your body fueled and prepared for the next connecting (short-haul) flight from Bangalore, let's look at the five best restaurants near Bangalore Airport without further ado.
Café 77 East:
A popular multi-cuisine restaurant near Bangalore airport, Café 77 East can be found in Taj Bangalore, Devanahalli. The restaurant is known for its extensive menu, from North and South Indian to Italian, Continental, and Mediterranean cuisines. A wide range of delectable food items for breakfast, lunch, and dinner leaves you spoiled for choice. The classy interiors, spacious seating, and relaxed ambiance of Café 77 East are the icing on the cake; and the alfresco seating by the landscaped gardens lets you enjoy the pleasant Bangalore weather while the restaurant pampers you with tasty food.
Timings: Open 24 hours
Approximate Cost for 2: ₹ 2500
Indian Paratha Company:
If you are someone with an undying love for parathas that you can eat them any time of the day (no, we don't ask you to bet on that!), then the go-to restaurant near Bangalore airport for you is the Indian Paratha Company. Serving more than 20 varieties of mouth-watering parathas such as Soya keema paratha, Samosa aloo paratha, Spring onion cheese paratha, Chettinad parathzaa, and Mushroom Corn parathzaa, this highway restaurant makes sure that it fills both the tummies and hearts of its guests. Apart from parathas, they also have appetizers, desserts, and other refreshments – all at economical prices.
Timings: 11 am to 11 pm
Approximate Cost for 2: ₹ 700
Also Read: Everything You Need to Know About Bengaluru International Airport
Tamarind: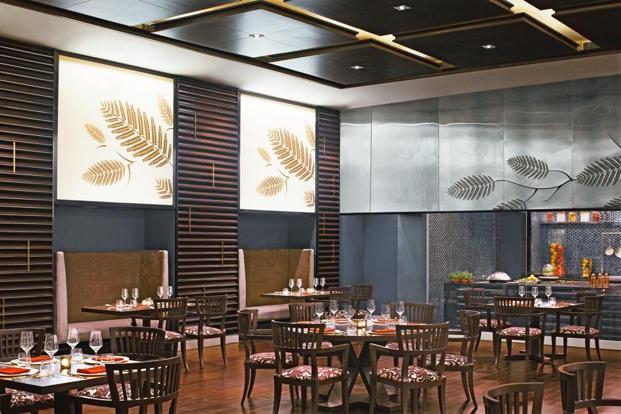 This upscale restaurant near Bangalore airport is specialized in the royal Rajasthani, Awadhi, and Punjabi cuisines. Tamarind prides itself on being meticulous about the food they serve to suit every refined palate. Relish the richness of authentic Indian food in a classy restaurant, whose traditional Indian hospitality you can never forget. The restaurant also has a wine room with a good collection of Indian and international wines to cater to the distinct tastes of wine lovers.
Timings: 12:00 pm to 3:30 pm and 6:30 pm to 11:30 pm
Approximate Cost for 2: ₹ 2000
Samosa Singh:
How about grabbing a quick bite even before you leave the airport? Kempegowda International Airport, being one of the busiest airports in India, is equipped with many eateries for the sake of hungry passengers. Samosa King, situated near the Kerb Side opposite 9th Gate, is known to offer a drool-worthy variety of both veg and non-veg samosas. Do we Indians really need a specific occasion or time for this tasty indulgence? Head towards Samosa King and try different varieties of this India's most loved triangular snack. Complete your samosa experience with a piping hot chai!
Approximate Cost for 2: ₹300
Nandi Upachar:
Situated very close to Kempegowda International Airport on the NH 4 Highway, Nandi Upachar never fails to draw vegetarians with its irresistible South Indian fare. Boasting a multi-veg cuisine, this is one of the best restaurants near Bengaluru airport to satisfy your hunger for authentic Indian food. From traditional South Indian breakfast to full meals to light snacks and hot beverages, every item on their menu is sure to delight your taste buds.
Timings: Open 24 hours
Approximate Cost for 2: ₹ 500