The Prince of Indian Cricket, Yuvraj Singh is the cynosure of all eyes. Springing back into action with ease has always been a norm for the gifted all rounder. Fighting all odds, the survivor is back to claim his crown.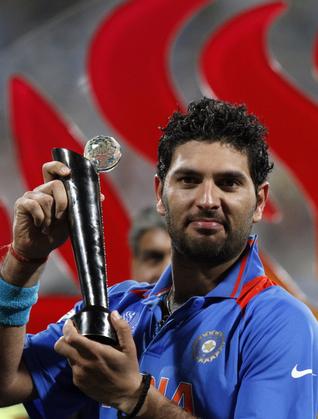 Tracing his journey back to international cricket with the first Twenty20, since his battle with a rare germ cell cancer, the match against New Zealand at Visakhapatnam on 8th September has got the internet buzzing.
Having etched out an illustrious career for himself, Yuvraj has welcomed life's challenges with open arms. Up's and down's, a part and parcel of sport, in his career graph have been underlined all along.
The recent exhilaration is over the return of Yuvraj, post his triumphant battle with cancer. The cricket field was void of his Flamboyant presence. Thousands of Fans have been waiting with bated breathe. Finally the day has arrived. The Wait is over!
Beating all odds, the Return of the Prince has devotees of cricket and well-wishers rearranging their schedule for the weekend spread.
Ironically, the timing of the diagnosis was within months of winning the Man of the Tournament award in the 2011 World Cup. The life threatening ailment between his lungs placed his career in jeopardy. This was a jolt to the Indian Cricket Team to continue without their ace player. Undergoing three cycles of chemotherapy, Yuvraj took the news in his stride.
Training hard at the National Cricket Academy in Bangalore, Yuvraj left no stone unturned to get back into form. Hours of practice has been invested in regaining his fitness and agility.
"I had played three practice games at NCA. I will get some serious match practice in the two matches against New Zealand scheduled September 8 and 11," Yuvraj said.
After nine months, the 30-year-old left-hander is all set to rewrite history with his courageous comeback.
"Don't know how I will fare on the 8th . If I will score 1 or 20 but I am happy to be back. I could not climb stairs and now I have this chance," Yuvraj said.
Regardless of his performance,  his legion of Fans have already declared  Yuvraj a  Winner!