The author of Romance on celluloid passed away on 21st October leaving behind a permanent void in Indian cinema. Bollywood director Yash Chopra wove his films, predominantly around love and romance, for 53 years at the box-office.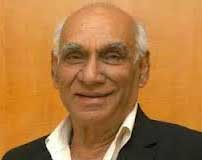 The movie moghul is the founder of Bollywood's premier banner, Yash Raj Films. Spinning more than 100 films,flamboyant Blockbusters were churned out under the aegis of the man, who introduced the Indian Audience to chiffon sarees and the Swiss Alps.
'Dhool Ka Phool' in 1959 marked the directorial debut with decades of films spanning between Amitabh Bachchan to Shah Rukh Khan. Distinctly etched identities stuck on to the actors and became most iconic reel characters.
He established the career of Amitabh Bachchan as the "angry young man" of Bollywood with "Deewar" in 1975.Shahrukh Khan's thriller "Darr" in 1993 made him a permanent fixture with the banner, latest film being the much awaited" Jab Tak Hain Jaan" .
The Awards conferred on Yash Chopra is an illustrious list  that include "Dadasaheb Phalke Award" in 2001, "Padma Bhushan" in 2005, "Dr Dadabhai Naoroji Millennium Lifetime Achievement Award" in 2001. Yash Chopra was honored with the Swiss Ambassador's Award 2010 for rediscovering Switzerland with Six National Film Awards and eleven Filmfare awards, including four Filmfare Award for Best Director.
Heroins  drapped in Chiffon sarees , snowcapped mountains and Switzerland. These three ingredients completed Yash Raj signature style.Switzerland became a sought after destination for movie buffs after the blockbuster "Dilwale Dulhaniya Le Jayenge" in 1995. Weaving magic in the pristine locales, no one complained about the absurdity of shifting scenes from a village in Punjab to the Swiss Alps, just for a song. Post card images of Switzerland flash across the mind when Yash Chopra films are discussed.
Switching genres came easily to Yash Chopra.Human drama in Dhool Ka Phool, 1959, Stylish social lost and found formula on in Waqt, 1965, songless murder mystery Ittefaq, 1969. Complicated love triangles (Daag and Chandni), Love quadrangle (Silsila), love defying (Kabhi Kabhie), age-gap amour (Lamhe), Musical romance (Dil To Paagal Hai), Sacrifice Love (Veer Zara), all the hues of Love were captured and projected with a healthy dose of charming music.
Two distinct strands – mature romance (Kabhi Kabhie, Silsila, Chandni, Lamhe, Veer Zara) and action-oriented human conflicts (Deewar, Trishul) carved a niche for Yash Raj Films. "Chandni" in 1989 ushered in end the violence while establishing Sridevi as a top star. "Dil To Pagal Hai" became the first Bollywood movie to be shot in Germany.
Chopra has shot around a lake in Alpenrausch for so many times, that the Lake has been rechristened as Chopra Lake.The Jungfrau Railways in Switzerland has inaugurated a train named after the legend, which was flagged off by Chopra himself, bearing his signature.
Yash Chopra had an eye for details and knew how to zero-in locations to film songs and add value to the flowing lyrics.True to the title of his last film,  Yash Chopra symbolically closed the last chapter of his life with his last directorial venture , Jab Tak Hain Jaan.