Today is June 5, the World Environment Day; the day we remember our commitment to save environment and go green. To save nature is everyone's responsibility. Travelers are no exception. Travelers can better act as ambassadors of "green revolution" and carry the message while touring the globe. Approximately one billion tourists go around the world every year. If they travel green, it will be the global travel industry's best contribution to the wellbeing of nature. Indian Eagle celebrates the World Environment Day with a view to making travel a green activity. Here is how to travel green:
Ride a cycle to travel green
Cycling in and around a city, is the best and most interesting way for young travelers to go green. A cycle ride across valleys, forests, mountains, villages and deserts is an adventure activity pumping adrenalin high. In most places, cycling routes are not trodden by heavy or large vehicles. You can not only breathe in fresh air but also save trees and fields on both sides from pollution while paddling a bicycle. Do travel green riding a cycle.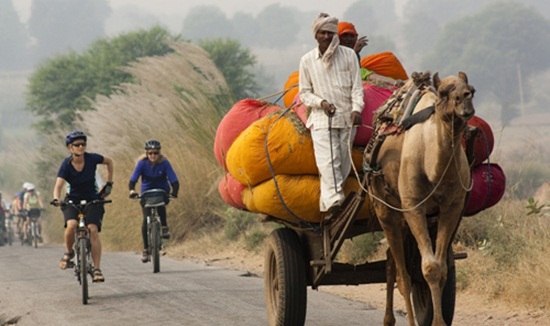 In India, bicycle tours are part of the "green revolution" bandwagon that more and more young travelers with passion for adventure are jumping on to. India has many cycling tour friendly destinations such as Agra, Rajasthan, Sikkim, Kalimpong, Himachal, Ladakh, Goa, Kerala, etc. As the phrase "Incredible India" suggests, these destinations are full of incredible wonders which remain a miss unless you take to the bicycle routes.
Bicycle tours help cut on energy consumption as well as reduce pollution of environment. A way to give back what we take from nature, it is an opportunity to discover the adventure freak in you. A car on the road adds approximately 5 metric tons of carbon di oxide emission to environment. If you travel most of the days a year, make bicycle trips at least for six months. You will be able to save minimum 2 metric tons of CO2 emission. Isn't it environment-friendly green travel?
Simple tips to travel green
Remember the maxim: "Take nothing but photographs, and leave nothing but footprints" when you visit parks, lakes, zoos, monuments, archaeological sites, etc. A few simple tips can make you an environment-conscious green traveler.
Many visitors sit on the lawn with stretched legs trampling grasses despite there are benches and chairs to sit on when they get tired of the long walk around a zoo. Say "NO" to it when you visit a park or a zoo. Avoid smoking on a visit to forest areas. Trees are living beings; they have life. Usually travelers of all age-groups are in the habit of taking soft drinks and leaving the cans behind while driving to destinations. Is having, soft drinks at social gatherings not enough? In India, you will find coconut water, lemon water, butter milk and sugarcane juice everywhere. These natural beverages are healthy and nutritious.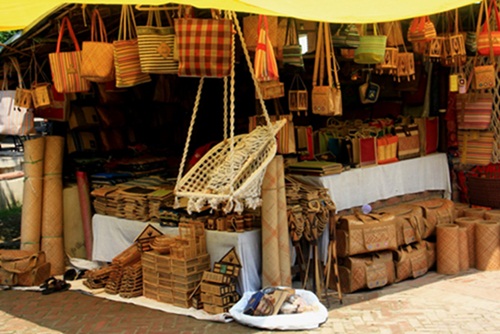 Buying local handcraft products at tourist destinations is a green activity that travelers must pursue. Made of natural components, handcraft items including jute products and terracotta knickknacks stand for the regional culture and beauty of a place. Make sure to hit street markets and explore colorful handcraft merchandise, on your tours to India. Delhi Haat in the capital of India and Bapu Bazar in Jaipur City are must visits if you are fond of handcraft art. This way you can contribute to the local economy too.
Stay in a green hotel
Stay green on tours. Choose to stay in a green hotel at the destination that you are going to visit. Green hotels are the hotels with energy-efficient lights, alternative energy sources and recycle programs for used materials. Stay in the hotel as you stay in your own home. Make sure to switch off electric devices and appliance like air conditioning, television, etc when you go out.
Buy e-Tickets for air travel
"Save a tree, save a life". You might have read and seen it here and there. You feel a strong urge to save trees at times, but don't know how. However, it is not a Herculean task. You can indirectly save trees and contribute to the green revolution by purchasing e-Tickets online for flights. Air travel with e-Tickets is synonymous with green travel. Indian Eagle helps you travel green by booking your flights online and providing e-Tickets. "Go Green" with Indian Eagle.