India is popular for its rich culture, heritage and artifacts. It has a lot to offer for tourists to take back as souvenirs. A treasure trove for gift articles, one would be spoilt for choice.
Pashmina shawls from Kashmir emerge as the top favorites for gifting ideas. A refined variant of Cashmere Wool, Pashm in Persian simply means Wool. Fine wool is sheared from the special Himalayan goat (Capra hircus) which lives at the altitude of 12000 to 14000 ft. Its unique thin short inner coat of hair is smooth, with a diameter that is five times smaller than a human hair. A single shawl takes up fleece from three goats.
Wool is usually collected during spring, soaked for a few days in a mixture of rice and water for its trademark softness. The delicate thread is not suitable for the powerloom. Instead a shuttle is used to weave and dyed only by hand. Eco- friendly dyes like metal and azo-free are used to manufacture this delicate apparel.
The Pashmina dates back to the age of Monarchs. Adorned by Emperors, Princes and Rulers. Handwoven, loomed and embroidery by hand, Pashminas can be worn as stoles, sweaters, wraps and scarves. The Pashmina Ring Shawls are ultra soft and supple. They can pass through a finger ring with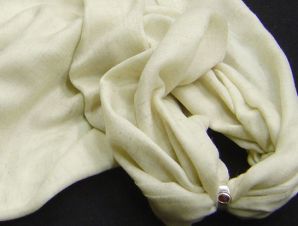 ease. This quality makes them most sought after as it requires woven expertise and precision.
This skillful art of weaving is passed down the generations, as a source of livelihood. Designs are either woven by hand or hand painted. Kashmiri needle work brings out the essence of the Fabric which holds the design together. Printed Pashminas are showcased by models on the ramp.
The tassels can be attached separately to any suede material to make a fashion statement.The versatility of Pashmina has made it a global favorite with semi- precious jewels sewn to it for an evening wrap.
Indian Eagle can offer reasons why shopping in Kashmir is a must for a shopaholic. One reason being, Our delightful Lowest Airfares to Kashmir
. While in Kashmir,its mandatory to add atleast one Pashmina to your wardrobe. Pamper yourself to this royal Apparel.