"Life and Death are in the hands of God which cannot be altered. We are all puppets on this stage called LIFE and God Holds the strings. It is unknown, whose turn will come next".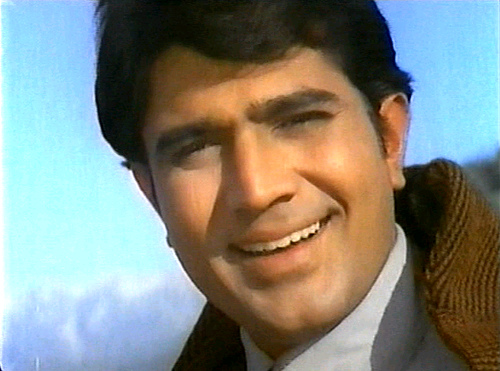 Rajesh Khanna immortalized these words in the closing scene of the film 'Anand' and imprinted these timeless words forever. Evergreen hero, dialogue king and pioneer of Romance in Indian cinema, words fall short describing the legendary actor. It's a sad day for Indian Cinema, the first and original Superstar, Rajesh Khanna passed away on 18 July, 2012, leaving behind a void that can never be filled.
Born on 29 December 1942, Jatin Khanna adapted the screen name, Rajesh Khanna which went on to earn him laurels in the field of acting. Actor, film producer and politician, Rajesh Khanna rewrote the definition of Romance in over 150 films. His on-screen chemistry with Sharmila Tagore, Mumtaz, Asha Parekh, Zeenat Aman and Hema Malini had the audience enthralled.
An illustrious career spanning 25 years, he was the biggest youth icon of the 1970s and '80s.163 feature films, 128 films as protagonist,17 short films and three Filmfare Best Actor Awards, he walked away with the most BFJA Awards for Best Actor (Hindi) for a record four times.
Rajesh Khanna's made his debut in the 1966 film Aakhri Khat. It was India's entry for the Best Foreign Language Film at the 40th Oscar Academy Awards in 1967. Baharon Ke Sapne, Aurat, Doli, Aradhana, Anand,Ittefaq, Khamoshi to name a few, showcased his ability to get into the skin of the character.
Aradhana propelled him to "instant national fame" and silenced film critics .Cast in a double role as father and son opposite Sharmila Tagore and Farida Jalal, it established the Kishore Kumar-Rajesh Khanna combination, which is etched in the memory of fans as timeless classics.
Rajesh Khanna's hairstyle, mannerism, unique style of dancing, dialogue delivery and gestures added to his mammoth onscreen persona. Guru kurtas made a fashion statement with the youth, while evoking frenzy with the female fans who wrote love letters in blood. He broke the heart of Million fans when he tied the knot with Actress Dimple Kapadia. Many newborns were christened after the heartthrob of Indian Cinema.
His trademark style and dialogue delivery is a favorite among mimicry artist. He is mentioned in an essay titled 'The Charisma of Rajesh Khanna' in the textbooks of the Bombay University. Exuding charisma that went beyond the art of acting, Amitabh Bachchan once said: "I got famous purely because I was working with Rajesh Khanna in 'Anand'.
He experimented with films of different genres ranging from tragedy, negative, fantasy,crime,suspense,action,family,dramas,reincarnation,patriotism and the usual run-of –the –mill romantic roles. The expanse of his roles covered playing a cook, rickshaw puller, psychopath, postman, lawyer, politician, musician, patriot, policeman, farmer to every possible role.
He began his second innings with "Avatar" and reclaimed adulations in the hearts of all his fans. Affectionately known as KAKA among the film fraternity, the king of dialogue finished his race with a power packed dialogue as usual. The Thespian ended the curtain call of his life with Aplomb, saying "Time ho gaya hai (My Time is Up), pack up" before resting forever.