"It does not matter where you came from; what matters is who you choose to be." This is true about these simple human beings with extraordinary willpower. They were school dropouts; they were victims of poverty; they were subjected to social evils. However, they struggled; they fought back; they survived, and embarked on a noble mission. Living for others is the only goal of their lives. Not letting others go through what they have suffered is the mission they strive to accomplish beyond their limits.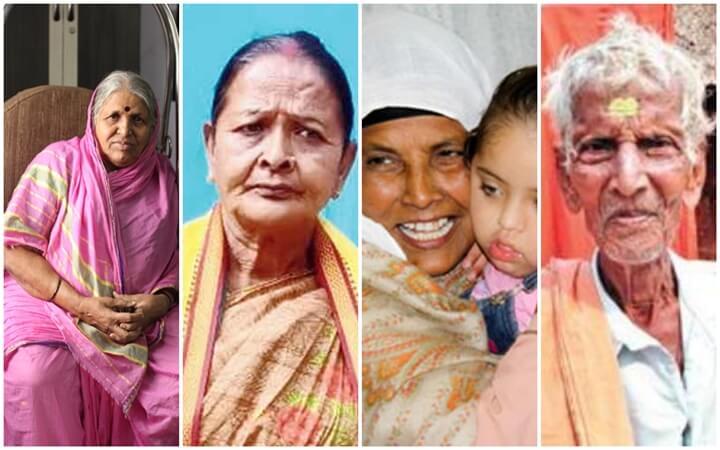 Padma Shri Sindhutai Sapkal: Mother of Orphans
One of the Padma Shri awardees in 2021, 'Mai' Sindhutai Sapkal has adopted and raised more than 1000 orphans, many of whom have established themselves in different walks of life. Some of them have made her mission the goal of their lives. Known as "Mother of Orphans", the 68-year-old runs several homes for orphaned children in different parts of Maharashtra, including Pune. Born in a cattle-grazing family and raised in abject poverty, she earned a Doctorate in Literature and went on to win the Nari Shakti Puraskar, the Mother Teresa Award, the Ahilyabai Holkar Award, the Nirja Bhanot Award, and the National Award for Iconic Mother.
Sindhutai Sapkal's journey from using the leaf of Bharadi tree as a slate in childhood to dropping out of school after the 4th standard to being married off to a man 20 years older than her to begging for the survival of her four kids to becoming a mother of orphans is a heart-wrenching story of heroism in real life.
Her crusade against the evils of destiny and society began with a fight against the exploitation of rural women by landlords and forest officers. She went to protest the evacuation of 84 villages for a tiger preservation project.
Padma Shri Chutni Mahato 
Chutni Mahato, a 62-year-old tribal activist from Jharkhand, has been awarded Padma Shri this year for her relentless crusade against witch-hunting of 60 women. Witch-hunting is nothing but a superstition that has not yet been uprooted from the rural hinterlands of India. She has not only saved 60 women from being killed by witch hunters, but also uplifted hundreds of underprivileged women across the state. The Padma Shri awardee has been driving awareness about the evils of witch-hunting for the past two decades.
Affectionately known as 'Tigress' for her acts of bravery, Chutni Mahato is a victim of witch-hunting, too. Education not being a priority in her village, she was married off at the age of 12. Once the child of her husband's elder brother got bed-ridden, a village quack accused Chutni Mahato of having practiced witchcraft on the child. Consequently, she was forced to drink urine, walk around semi-naked, and subjected to physical abuse by the villagers.
Chutni Mahato escaped from the village and approached the Association for Social and Human Awareness (ASHA); the nonprofit organization was running campaigns to eradicate witch-hunting in the rural belt of north India. At present, she is the in-charge of a rehabilitation center for victims of witch-hunting. With the help of the police and the local administration, she leads a team of 90 women in keeping a check on witch-hunting in villages. Mere allegations of witchcraft caused 27 deaths in Jharkhand, according to a 2019 survey by the state.
Padma Shri Parkash Kaur 
The 2021 list of Padma Shri awardees features 63-year-old Parkash Kaur from Punjab in recognition of her unconditional service to and motherly care for abandoned girl children. Parkash Kaur's Unique Home in Jalandhar City is where abandoned girls, including infants, teenagers and adolescents find not only a home but also a mother. She saves abandoned girl children from stray dogs and other dangers lurking around, brings them to Unique Home and raises them as their own kids. She has rescued and raised 80 abandoned girls; more than 15 of them have been married.
She is committed to giving a second life to the girls abandoned by their biological parents as she herself was a foundling. She treats them equally irrespective of their cast and religion, celebrates their birthdays with equal enthusiasm, and sends them to English medium schools. Padma Shri Parkash Kaur's Unique Home does not give away girls to whoever comes to adopt them. She says confidently, "These are my daughters and I am their mother. How can I give them to others?"
Padma Shri Nanda Prusty
Nanda Prusty, who turned 100 this year, is a torchbearer of literacy in his village and beyond. One of the six Padma Shri awardees of 2021 from Odisha, centenarian Nanda Prusty has been teaching children and senior citizens in and around his village for free for the past 70 years. A class 7 dropout, he could not further studies due to utter poverty. Hence, he is determined to leave no child illiterate in his village. Nanda Mastre, as he is affectionately known as, does not budge from his mission even after turning 100 recently. Age is just a number for him. He teaches children three hours in the morning and two hours in the evening. Senior citizens attend his basic literacy classes late in the evening, from 6 pm till 9 pm.
Padma Shri Lakhimi Baruah
Among the Padma awardees 2021, Lakhimi Baruah is named for Padma Shri in recognition of her sincere efforts to financially empower women in Assam. Raised amid financial hardships due to the untimely demise of her parents early in her teens, Lakhimi Baruah founded Konoklata Mahila Urban Cooperative Bank in 1998 to help rural women become financially secure. A woman for women, she has been an agent of change in the lives of over economically disadvantaged 50,000 women.
While working in a cooperative bank, she found that there was no bank where poor women, including daily laborers and domestic helps, would keep their hard-earned money safe and borrow small loans from on easy terms when in need. Despite having no profound knowledge of banking, Lakhimi Baruah applied for a license to the Reserve Bank of India in 1990 and got it after eight years. She founded the bank in just 2 years, with an initial capital of Rs 8.45 lakh.
Today, Lakhimi Baruah's Konoklata Mahila Urban Cooperative Bank has four branches, nearly 50,000 customers, and an annual turnover of Rs 16-20 crore.